Rice sees positive signs
Assistant manager Pat Rice thinks Arsenal can build on their battling draw with Borussia Dortmund.
Last Updated: 14/09/11 7:19am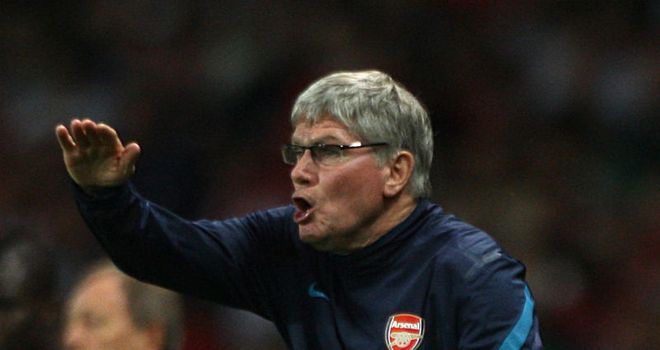 Assistant manager Pat Rice thinks Arsenal can build on their battling draw with Borussia Dortmund in Germany and has hailed the attitude of his club's players.
The Gunners were denied victory in their UEFA Champions League Group F encounter at Signal Iduna Park as an exquisite volley from substitute Ivan Perisic secured a last-gasp 1-1 draw.
It looked as if Robin van Persie had snatched Arsenal an unlikely victory in Germany after withstanding a barrage of attacks before the home side struck a late blow.
With manager Arsene Wenger forced to watch from the stands due to a touchline ban, assistant Rice was the man charged with leading the side and he was proud of the team's effort.
"We battled really hard and we knew it would be a hard, hard game," he said. "To be able to defend well is a high-quality skill and that is something all of our players did this evening.
"I shouldn't think many teams will come to Dortmund and beat them and we were very, very close to doing that.
"Don't forget Dortmund are a really good side. There is no question about that.
No doubt
"Would we have liked to have won the game? Of course we would. We were so close and so very, very near.
The hard-fought result followed the 1-0 defeat of Swansea at the weekend.
Wenger admitted on Monday he hoped for a win that would kick-start their season but, despite the late equaliser, Rice believes the draw can have the same impact.
Asked whether Arsenal have turned the corner, he said: "Very much so. It seemed, especially the game on Saturday, it was our start of the season.
"Because of the uncertainty as to who the players would be that leave us and whether they wouldn't.
"The players that we have acquired are very, very good players, contrary to what other people have said.
"I have no doubt that they will show it and in the games to come."
Hurts
England international Jack Wilshere was not involved in Germany as he continues his recovery from an ankle injury.
But he said on Twitter after the match: "...Watched my boys and thought we did well! Very hard game! Hurts to concede late but we will take that!"
Jurgen Klopp was the man in the opposite dugout and the Borussia Dortmund manager was delighted by his side's showing.
"I am very satisfied with the performance of my team today," he said. "Arsenal are a very offensive-playing team and we were able to hold them.
"We were rewarded with one point from this hard fight and it is great for this young team to have achieved this draw."