Wenger ruled out Gervinho war
Arsene Wenger did not wish to 'go to war' with Ivory Coast national coach Francois Zahoui over the release of Gervinho.
Last Updated: 07/01/12 12:45pm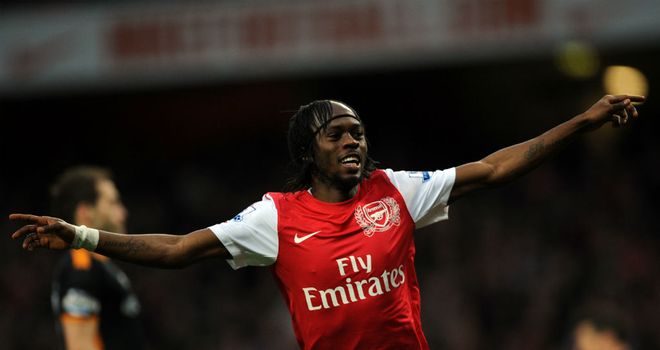 Arsenal manager Arsene Wenger did not wish to 'go to war' with Ivory Coast national coach Francois Zahoui over the release of Gervinho for the African Cup of Nations.
The Gunners will be without their summer signing for Monday night's FA Cup third round visit of Leeds as he joins up with the rest of the Elephants squad in Paris on Saturday.
Manchester City duo Kolo and Yaya Toure are two more Premier League stars who were not allowed extra time with their club to take on rivals Manchester United ahead of the tournament in Gabon and Equatorial Guinea, which opens on 21st January.
Wenger knows Zahoui very well from when he was a player at Nancy, and the African coach recently visited Arsenal's Hertfordshire training complex.
While the Gunners successfully lobbied Morocco to delay the departure of striker Marouane Chamakh, Wenger did not want to use his relationship with Zahoui to try to sway things over Gervinho.
"I had him as a player at Nancy when he was young, and he was here two weeks ago, but I do not want to go to war with him," the Arsenal manager said.
Difficult position
"He would be in a difficult position. He does that with Yaya Toure and Kolo Toure. I do not want to take advantage.
"If I keep Gervinho for Monday and Yaya Toure and Kolo Toure have to go on Sunday, it would be unfair."
Wenger also knew from experience there was no point in attempting a similar plea to Ivory Coast.
Wenger said: "With Ivory Coast we have always the same problem.
"I remember once we had an FA cup game, which was 14 days ahead of the competition. At night they had to report in Paris.
"If I played Kolo Toure and [Emmanuel] Eboue they could not be at the airport at 6pm.
"In the morning of the game we still had negotiations to get them to play. In the end, they refused us to let them play."
Tournament favourites
The 2012 competition will be held in Gabon and Equatorial Guinea, with the final set for 12th February.
With traditional powerhouses Nigeria and Cameroon failing to qualify, Ivory Coast - who boast several players from the cream of Europe's clubs - are the tournament favourites.
Wenger accepts should Gervinho be involved into the latter stages, the £10million summer signing from Lille would need extra time to re-acclimatise to the hustle and bustle of English football.
"It is equivalent to a player here to go to the European Championship - and they are under immense pressure," he said.
"It is a different climate. Usually we have snow in February here, so they come back from big temperature difference."