Wenger wants Henry 'problem'
Arsene Wenger has no plans to extend Thierry Henry's short-term loan deal, but is hoping the returning hero gives him a tough decision to make.
Last Updated: 09/01/12 9:25am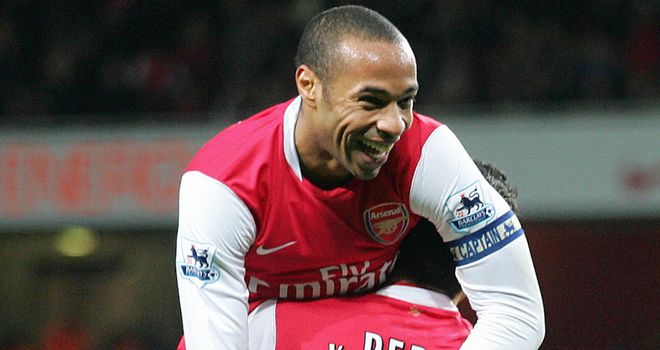 Arsenal manager Arsene Wenger has no plans to extend Thierry Henry's short-term loan deal, but he is hoping that the returning hero gives him a tough decision to make.
Henry, the Gunners' all-time leading goalscorer, has agreed a two-month loan deal at Emirates Stadium.
The Frenchman now plies his trade in the MLS with the New York Red Bulls, but is free to return to Europe during the American off-season.
Wenger has offered him an emotional return to North London, with Arsenal having put a deal in place to help cover the loss of Gervinho and Marouane Chamakh to the African Cup of Nations.
It is expected that Henry will return to the United States when his initial agreement comes to an end, but there is a possibility that he could stay.
AC Milan were able to keep David Beckham until the end of the season in 2009, with the former England captain having joined the Serie A giants on loan from the Los Angeles Galaxy.
Promised
"Milan might have negotiated that in advance but we have not done that," said Wenger.
"We have promised that we will send the player back so we have not spoken about that at all."
Wenger is, however, looking for Henry to make the decision to send him back to the States a difficult one.
He added: "Let's hope we have the problem. If we have a problem then it means he has done well so I hope we have the problem.
"But at the moment I can just say no, it is not envisaged at all."
Henry is set to make his second Arsenal bow in Monday's FA Cup third round clash with Leeds United, while he will also be available for Premier League and UEFA Champions League duty.
Trophies
The Gunners are hoping he can edge them closer to long-awaited silverware, but Wenger insists too much emphasis has been placed on the club's failure to land a trophy in seven years.
"You want your fans to be proud of trophies, but also to consider the achievement," he said.
"Everybody is entitled to view it differently, but you can't compare winning the Carling Cup to every year coming out of the group stage and every year qualifying for the Champions League.
"If we had been out of top European quality for 10 years and won one or two cups it would be different, but I do not try to defend the fact that we did not win [trophies].
"It has always looked like 'ah, you have not won a trophy so you have been nowhere for five years' - but in the same five years we have been in the semi-finals of the Champions League and final of the Champions League.
"One day you will realise that it is not as easy as it looks - and this year we are again one of the two [English] teams who qualified [for the last 16]."