RVP tips Ox for the top
Robin van Persie feels Alex Oxlade-Chamberlain can become a star for club and country, but is wary of placing too much pressure on him.
Last Updated: 06/02/12 5:25pm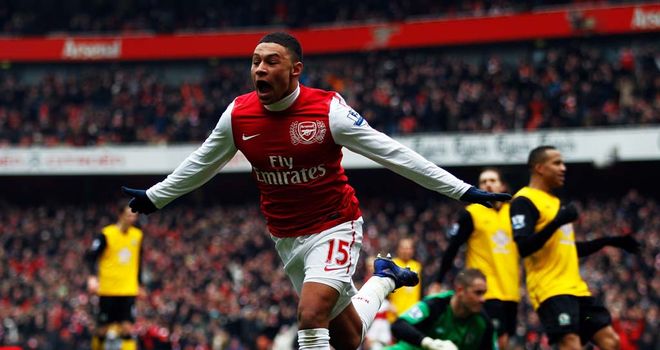 Robin van Persie believes Alex Oxlade-Chamberlain can become a star for club and country, but is wary of placing too much pressure on the teenager.
Arsenal spent big last summer to secure the 18-year-old's services, with a number of Premier League sides having spotted his obvious potential.
The Gunners have been careful to ease the England U21 international into top-flight action this term, with the first half of the campaign seeing him make sporadic appearances.
He has, however, forced his way into Arsene Wenger's plans over recent weeks and has rewarded his manager's faith with a string of eye-catching displays.
The most recent of those came against Blackburn on Saturday as he netted his first Premier League goals in a 7-1 mauling of hapless Rovers.
Prospect
Van Persie outshone his young colleague as he grabbed a hat-trick, but the Gunners skipper feels Oxlade-Chamberlain is destined for the top - providing Arsenal continue to nurture him in the right way.
"It's always good to have a good mixture of young talents, experienced players and I really like him," said Van Persie.
"He is a fantastic player already, he's only 18 and is so young. He's good on the ball, he has everything.
"Alex is quick, has movement and technique. He can score a goal, give an assist. He has a great future.
"In the future (he can make the England team), definitely. He's a big prospect. Everyone is enjoying watching him, I do, you do and he brings something extra to the game and people just love it.
Confidence
"Don't put too much pressure on him. You always have periods when you are young when you have really high highs and you go up and down until you balance it a bit better.
"He will have ups and will have periods when he's not playing so well. So my advice is to be aware of it and be patient.
"It reminds me of my own period when I was breaking through and was 18 or 19.
"When you have all these qualities then it gives you confidence and you can enjoy yourself.
"He's not someone who thinks about negatives, just positives and you can enjoy the game like that."