Robinho in confident mood
Robinho has told Sky Sports that AC Milan need to keep a clean sheet against Arsenal as well as trying to exploit their defence.
By Francisco Acedo
Last Updated: 15/02/12 4:23pm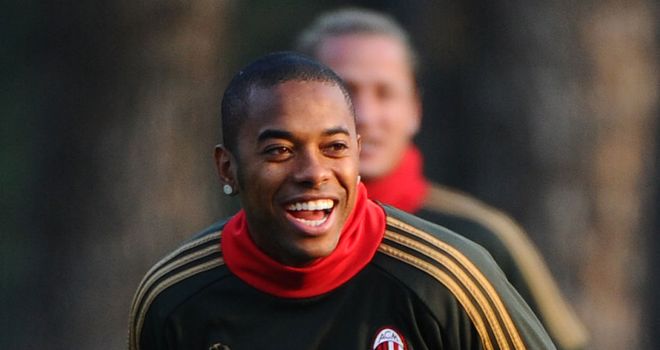 Robinho has told Sky Sports that AC Milan need to keep a clean sheet against Arsenal as well as trying to exploit their defence.
Milan tackle Arsenal in the first leg of their UEFA Champions League round of 16 encounter on Wednesday.
Arsenal make the trip to the San Siro in good form with three wins from their last four games, and they also play at a stadium they have fond memories of - with two wins from their only two matches there.
Milan come into the match on top of Serie A after a 2-1 win at Udinese at the weekend and Robinho is confident they know what they need to do against the Premier League giants.
"Our first objective is to keep them to zero in Milan," Robinho told Sky Sports.
"If that happens then we increase our chances of making the next round because we will be able to score in London.
Problems
"People have also spoken about the problems in the Arsenal defence, and if that is right we will need to exploit this factor, but when you're in a match every player normally comes up with his best.
"But Arsenal does not practice the habitual English game, because they are actually very open.
"They have swiftness in attack with somebody like Walcott, but football is not about a quality of an individual, the best team is always from working together.
"But they are not the same side and have lost the power without Cesc Fabregas, Nasri and Wilshere - although they have improved in the last few months, and they seem to now attack without fear.
"Normally I would say goals would be key, but I think the best defence will be the key for who moves through."
Robinho revealed that Milan have singled out Robin van Persie for special treatment.
"It is obvious how important the goals of RVP are but we need to attack them too," he said.
"But we do not fear the Dutchman, we have worked on a system to annul his performance."
Despite Milan going into the match as favourites, Robinho insists that Arsenal cannot be underestimated.
"When you get to the elimination rounds, a clear favourite does not exist, for me things are 50/50 but our objective is to make sure we change this percentage on the night.
"Our triumph in Udine at the weekend has a double value for us, for the league it is three points but we also have the morale boost for the Champions League."
Nothing to prove
Robinho admits that, following his stint with Manchester City, playing against English clubs is now extra special for him.
"To play against an English club is special for me because of my past in Man City, but I do not need to demonstrate anything against Arsenal," he continued.
"The Premier League did not see the best Robinho, but now I am in a good moment."
Finally, Robinho admitted he was delighted to see Thierry Henry back with Arsenal, although the match at the San Siro will be his farewell appearance before he departs back for America.
"Many people have doubted the presence of Henry for the second time, but really all he has demonstrated is how much of a worldwide star he is."