Szczesny - Win fires a warning
Wojciech Szczesny was left 'heartbroken' by Arsenal's European exit but feels the manner of their departure fires a warning to their rivals.
Last Updated: 07/03/12 8:20am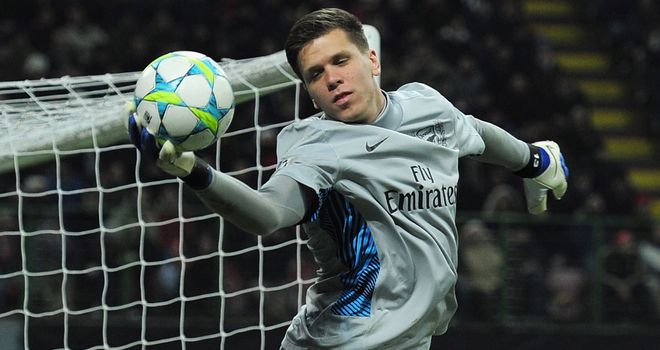 Wojciech Szczesny admits he was left 'heartbroken' by Arsenal's UEFA Champions League exit but feels the manner of their departure fires a warning to their Premier League rivals.
The Gunners came close to overthrowing a 4-0 first-leg deficit against AC Milan at Emirates Stadium on Tuesday night but fell just short as the second leg finished 3-0 to the hosts.
Arsenal goalkeeper Szczesny says his side will take confidence from the battling exit and believes their top-four league rivals should be wary.
Warning
"We sent a message across to the teams in the Premier League that when we are at our very best we can beat anyone in the country and in Europe," the Poland international told Sky Sports.
"So it will give us a lot of confidence. Yes we are heartbroken because it wasn't enough and we got knocked out of the Champions League but there are a lot of positives."
Recent results have left Arsenal fourth in the Premier League table and four points adrift of fierce local rivals Tottenham.
Szczesny admits he will not be happy with anything less than a third-place finish and hopes Arsenal's neighbours slip out of the race for Champions League football altogether.
"I wouldn't settle now for fourth place," he added. "We're four points behind the other North London club and hopefully we can challenge them.
"Hopefully Chelsea can challenge them for a fourth spot as well. I'd be really pleased to see Tottenham in the Europa League next season."
Gunners defender Thomas Vermaelen believes his side have every chance of overtaking Spurs if they carry the momentum from Tuesday's win into their league campaign.
Consistent
"If you play the way we played in the first half, if you're consistent like that, then I'm not worried, we will be in the top four," he said.
"If you play the way we played today you can beat every team. It's just a case of being consistent in the next following games and if we do that we will be in the top four and maybe the top three."
Right-back Bacary Sagna is also keen for the Gunners to turn their attention back to the league, with a visit of Newcastle looming next Monday evening.
He said: "Now we have the Premier League. We will receive Newcastle at home and that will be a massive game for us. We are getting closer and closer to Tottenham."