Gervinho reveals Arsenal pride
Gervinho feels Arsenal's poor start to the season has made them stronger and they should be proud if they clinch third place.
Last Updated: 19/04/12 4:42pm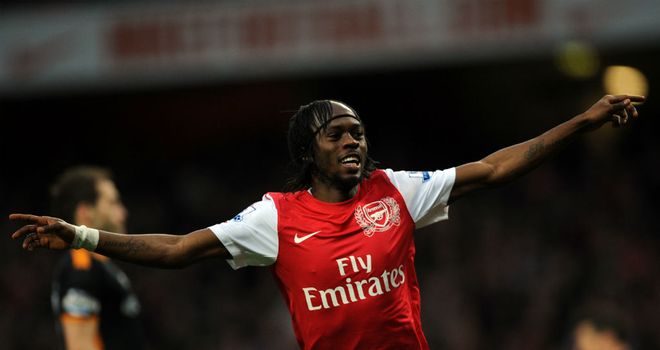 Arsenal forward Gervinho feels the club's poor start to the season has made them stronger and they should be proud if they clinch third place in the Premier League.
After a summer overshadowed by the protracted departures of Cesc Fabregas and Samir Nasri, Arsenal began the season with four defeats from their first seven games, including their now infamous 8-2 mauling at Manchester United.
However, Arsene Wenger's men have recovered and a run of nine wins from 11 since February - including seven in a row - has seen the North London outfit consolidate third place.
They are currently five points clear of Tottenham in fourth and Newcastle in fifth, though they have played a game more.
They take on sixth placed Chelsea at the Emirates on Saturday knowing they need to maintain their momentum in the final four games in order to secure a UEFA Champions League spot.
Ivory Coast striker Gervinho, who moved from Lille for £10.8million last summer, insists his team-mates should be proud of their efforts given their poor opening to the campaign.
"We learnt a lot from the negative start we had. It has made us stronger. We learnt a lot during that struggle," he told the club's official website.
Criticised
"In life you will always be criticised. We had to prove to the people who didn't believe in us that we were able to come back by playing well on the pitch.
"The result is here today. Our progression during the season speaks for itself on the pitch.
"We want to be among the top three. The whole group is very motivated and we are already happy to be where we are.
"We can still do better with the four matches coming. We are fighting only for third place, we don't think about fourth spot.
"Everybody is determined to fight until the end, from the players and the manager to the fans, to maintain third place. If we manage to keep it then everybody should be proud because we fought very hard for it."
Even if Arsenal secure third place and a spot in next season's Champions League it does not disguise the fact another campaign has gone by without a trophy.
Frustration
They have not won a major honour since the 2005 FA Cup, much to the frustration of everyone associated with the club.
Gervinho admits he was disappointed to end the season with no silverware, but believes the club will be well placed to compete next year.
"It is true that I am disappointed to see another year without a trophy," he added.
"I am used to getting trophies, but we tried and we went through a lot this year.
"We are happy to have reached that level. I hope next year we will do even better."