RVP explains Barca hotel visit
Arsenal skipper Robin van Persie has insisted he has nothing to hide after visiting Barcelona's team hotel this week.
Last Updated: 21/04/12 12:25pm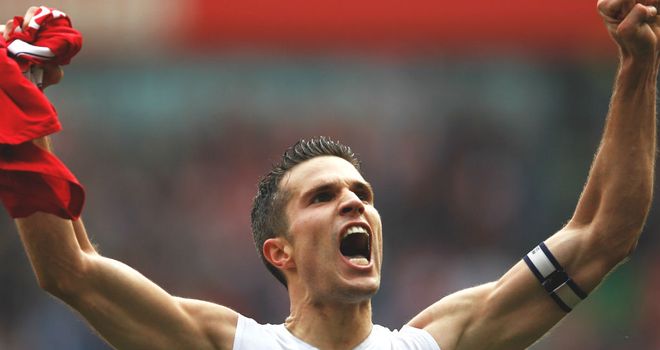 Robin van Persie has insisted he has nothing to hide after visiting Barcelona's team hotel this week, as he was only going to speak to a friend and still plans to discuss his future with Arsenal in the summer.
The Gunners skipper was pictured at Barca's London hotel on Tuesday night, ahead of the Catalan team's UEFA Champions League match against Chelsea 24 hours later.
The incident fuelled speculation that Van Persie could be set to join Barcelona at the end of the season, but he maintains that it was perfectly innocent.
"The explanation is really very simple. My very good friend Ibrahim Afellay plays for Barcelona," the Dutchman wrote in Arsenal's official matchday programme.
"After a bad long-term injury, he was finally back with the team - and during his absence I had been in contact with him a lot, but I hadn't seen him.
"This was an opportunity for me to go and visit a close friend, show him my support and catch up.
"Unfortunately, this had to be at the hotel, because he was not permitted to leave it.
"I was wearing my Arsenal tracksuit and we sat down by the reception to have a chat and some food - everyone could see us and there was nothing to hide.
"I can't imagine anyone conducting transfer negotiations in these circumstances!"
Social life
Van Persie has just over a year left on his Arsenal contract and Arsene Wenger has reassured supporters that the situation will soon be sorted.
The 28-year-old added: "The visit to the hotel was a social one and had nothing to do with the future of my career.
"I do have a social life next to football, even if my wife tells me that it sometimes doesn't seem that way!
"Nothing has changed in the sense that my intention remains to discuss my future in the summer."
Caldwell reaction
Van Persie also hit back at Gary Caldwell's claim that he refused to shake the Wigan captain's hand after Arsenal's shock 2-1 defeat on Monday night.
He said: "I was quite surprised by his reaction, and the fact that it made such news in the media.
"If you look properly at what happened, I offered him my left hand but he refused it and acted like the innocent party - so all the reaction has been a little over the top.
"There were no bad intentions on my side. In football, you can win and lose - that is part of the game, and of course I will always be disappointed with a defeat, but not to the point that I refuse to shake my opponent's hand. Not everything is always as it looks."