Koscielny - We stuck together
Laurent Koscielny has admitted the beginning of the season was a catastrophe for Arsenal but says everyone at the club stuck together.
Last Updated: 11/05/12 9:10am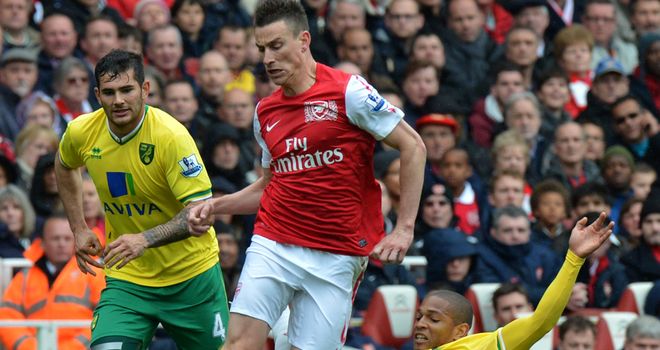 Laurent Koscielny has admitted the beginning of the season was a catastrophe for Arsenal but says everyone at the club stuck together to get them back on track.
The Gunners lost key men such as Cesc Fabregas and Samir Nasri last summer and struggled to cope at the start of the campaign, with new players needing time to adjust to life at Emirates Stadium.
The low point came with a humiliating 8-2 defeat by Manchester United at Old Trafford and Arsenal's chances of finishing in the top four were written off by many observers.
There was also plenty of scrutiny about the future of long-standing manager Arsene Wenger, and Koscielny admits that doubts could have started to creep in because the situation was so dire.
However, the French defender says he is proud of how everybody stayed united to turn things around, with Arsenal currently third in the standings as they head into the final weekend of the season.
"The beginning of the season was a catastrophe," he told France Football. "We'd lost players who were key to our system. We recruited late, and it took a while for us to gel.
"We were whopped at Old Trafford. Everybody thought we were dead and buried.
"But you don't lose your football like that, like snapping your fingers.
"It can happen that a grain of sand falls in the machine, and the machine stalls; then you start to have doubts about your qualities, your club, your coach, everything.
"We had to put the house back in order and everyone did their bit: the coach, the club, because we were in a critical situation.
"The squad wasn't giving enough for the club, and was aware of it. We got back to work, we told each other the things that needed to be told; after which, one win, two wins, confidence comes back, and things follow from then on. The new players gelled in the squad, and here we are."
No regrets
Asked if his dominant feeling this season was one of regret or frustration, Koscielny admitted that it had been an emotional rollercoaster.
"I cannot live with regrets. If we had a nightmarish start to the season, it is because we deserved to have it," he said.
"But, frankly, I'll come out of this season a more mature footballer. Everybody thought us dead and buried, but we stuck together, the players, the club, the staff, we fought together.
"The season I've gone through has been tough, but full of emotion. Tottenham at home... there was pressure on us, we were five points behind Chelsea, everybody was saying, 'Champions League? It's over, Tottenham will win'...and we put five goals past them, and went on a seven-win run."
Title hope
Koscielny believes Arsenal can compete for the title next season if they keep their squad intact and strengthen over the summer, but his immediate focus is on beating West Brom.
Wenger's men must defeat the Baggies on Sunday to guarantee a third-place finish and UEFA Champions League football for next season.
Asked about next season, Koscielny said: "I'm not thinking about it yet. The most important thing is to get that third place.
"Then - if we keep our key players, if we bring in players who can bring something extra, if we make a good start in the league, then, yes, we'll be contenders for the title."