Wenger hopes for RVP influence
Arsene Wenger thinks Arsenal finishing in the top three of the Premier League can help in talks with Robin van Persie.
Last Updated: 12/05/12 12:05pm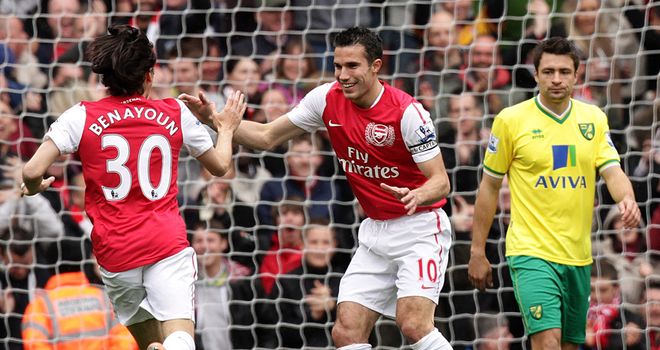 Qualification for next season's UEFA Champions League is an important factor in Arsenal's attempt to keep Robin van Persie, according to manager Arsene Wenger.
The Gunners head to West Brom on Sunday needing victory to secure third place, and with it safe passage into the group stages of Europe's elite club competition once again.
The future of captain Van Persie, who has plundered 30 league goals, remains subject for speculation, with the Dutchman set to talk with the club ahead of his departure to Euro 2012.
Asked if guaranteeing Champions League football would make it easier to convince Van Persie to sign an extension to his current deal which still has a year to run, Wenger said: "On my side I am inclined to think, 'yes'. But you should ask him. I don't know whether it will have an influence on him.
"Anyway, we don't focus on just that. Robin is not at the end of his contract."
Wenger feels the Gunners would not necessarily be forced to sell Van Persie, as they did with Cesc Fabregas to Barcelona and Samir Nasri to Manchester City last summer.
Strengthen
"People speak like our position is not important. Our position is very important," said Wenger.
"Our position with Cesc was to let him go because he wanted to go."
After playing catch-up at the end of the August transfer window, Wenger has already done some early transfer business with the £10million signing of German striker Lukas Podolski.
Wenger believes it will be a "quiet summer", and thinks getting the likes of England midfielder Jack Wilshere - who has not kicked a ball in anger this season - fit again will be just as important as any new signings.
"Another way to strengthen for us is to get Wilshere and [Abou] Diaby, who didn't play at all the whole season," said Wenger.
"You look at the number of players - we have 34 players when they all come back. That means you have to pay nine not to play."