Europe key to Van Persie
Arsenal's Robin van Persie would swap all his personal accolades for a place in the Champions League as he prepares to discuss his future.
Last Updated: 13/05/12 12:04pm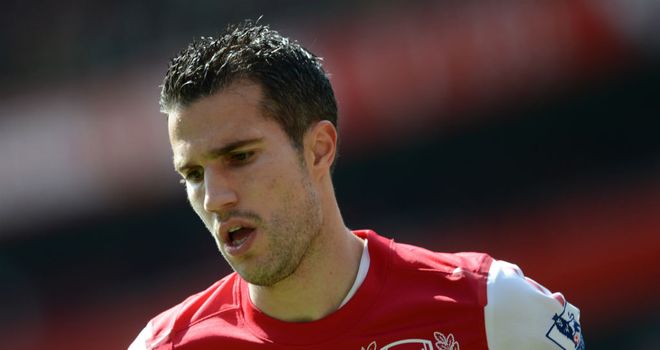 Arsenal captain Robin van Persie would swap all his personal accolades for a place in next season's UEFA Champions League as he prepares to discuss his future with the club's hierarchy.
The Gunners travel to West Brom for Sunday's final game of the campaign and know a win will guarantee third place in the Premier League and an automatic passage to Europe's pedigree club competition.
For 30-goal Van Persie, who has been crowned the 2011/12 Players' Player of the Year and Football Writers' Player of the Year, it is a match of crucial importance and could decide the future of his career.
The Dutchman will be out of contract at the end of next season and, ahead of talks with manager Arsene Wenger and chief executive Ivan Gazidis, he has seemingly yet to decide if he will sign a new deal.
And Van Persie has left no doubt that Champions League participation, which is at risk from Tottenham and Newcastle, will prove a vital factor in his decision making, as he said: "You know what? All the goals I have scored this season, all the awards I have won - I would trade them all in an instant for us to win today.
"What's the point in achieving all that personal success if your team fails? Football is a team game and if my team fails, then I have failed.
Concentration
"The truth is I wouldn't have scored all those goals, won the awards without my team-mates. My success is a reflection of all the hard work and great play of my colleagues."
Spanish heavyweights Real Madrid and Barcelona have both been linked with Van Persie as he makes the choice between his love of Arsenal and his desire to win trophies.
The Dutchman has only one FA Cup medal from his time in England and that was only earned as a late substitute who scored a penalty in the 2005 shoot-out win over Manchester United.
Summer discussions with Arsenal before Euro 2012 will consequently be of immense importance, but Van Persie does not want to lose concentration on the match against West Brom.
"When we have finally done it I will sit down with the boss Arsene Wenger and the chief executive Ivan Gazidis at the end of the season and discuss my contract with them," he said.
"For now, though, my focus is simply guiding Arsenal to the Champions League so the situation has not changed.
"I am very proud to be captain of Arsenal football club. I truly love this club and, whatever happens in the future, I am a Gunner and I will always be a Gunner."