Wenger 'proud' of season
Arsene Wenger hopes that finishing third will persuade Robin van Persie to stay at Arsenal and insists he is 'proud' of his club's season.
Last Updated: 13/05/12 7:04pm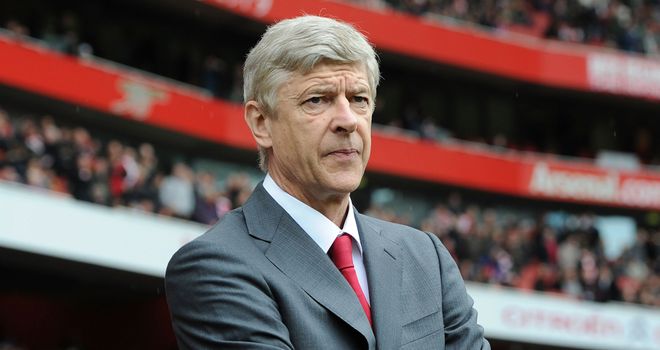 Arsene Wenger has reiterated his hope that finishing third will help to persuade Robin van Persie to stay at Arsenal and insists he is 'proud' of his club's season.
The Gunners secured automatic qualification for the UEFA Champions League group phase after a 3-2 win at West Brom on the final day of the season held off the threat of Tottenham.
Wenger will now hold talks with his captain Van Persie, who is out of contract in 12 months' time, before the striker heads off to Euro 2012 with the Netherlands.
Van Persie ended the season with 30 league goals as Yossi Benayoun, Andre Santos and Laurent Koscielny netted against the Baggies.
Wenger said: "Will Champions League football help to keep Van Persie? It makes it easier to attract good players and keep them.
"The intention is to speak with him before he leaves for the Dutch camp (for Euro 2012)."
Solidarity
Finishing third represents a major turnaround in fortunes for Arsenal who were in 17th place in October after losing four of their opening seven games, with some fans calling for Wenger to be sacked.
Wenger added: "I'm proud of the season. The mental solidity, the unity and solidarity inside the club has been tested. We didn't show any weakness and kept united.
"In the end, we came back. It's a good lesson for everyone. I told everyone to keep doing what they are doing and in the end we got there.
"I cannot say the season has been a failure. We have qualified for the 15th time. Only three clubs have done that in Europe. That means it's not as easy as it looks.
"We were 17th in the league and in the first seven games we had lost four of them. When you have played seven games, there are 31 to go. It's very difficult to imagine you can finish third.
"But we have had an exceptional run after our Champions League exit.
"I think if you look at the season as a whole in the last 16 games, we have lost only twice. We have created a fantastic run. In the end we finished with 70 points. That is respectable."