Giroud targets big impact
New Arsenal striker Olivier Giroud is convinced he can impose himself with the Gunners after signing a long-term deal.
Last Updated: 26/06/12 6:54pm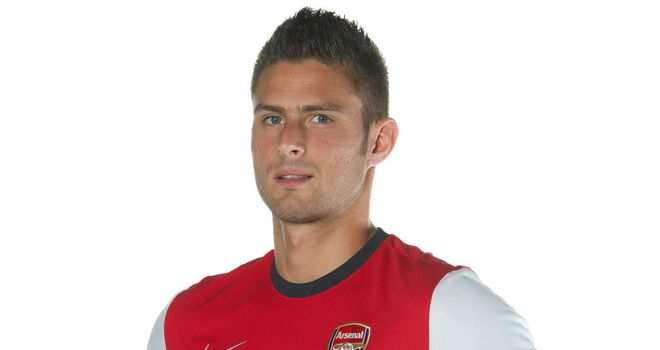 New Arsenal striker Olivier Giroud is convinced he can impose himself with the Gunners after signing a long-term deal.
Giroud, who was part of France's Euro 2012 squad, has joined for an undisclosed fee from Montpellier, which is believed to be £13million.
The 25-year-old netted 21 goals in 36 league games as Montpellier claimed their first ever Ligue 1 title last season, and will now set his sights on delivering a first trophy since 2005 for Arsenal.
Spirit
"There is a good spirit here, and that is another reason why I chose this club," Giroud told the club's official website.
"I am confident in the potential of the group and I am convinced that in the future, hopefully next season, we can win something.
"It is difficult in England because there are so many big teams, but that is what gives it its charm, what makes it beautiful.
"It is the hardest league and it won't be easy to impose myself, but I am confident. I have the weapons to do well here.
"I will need some time to adapt of course, but I am not worried about that. I think I will adapt well.
"I am a player who likes to play, who likes to participate in the game. That is why I think the way Arsenal play will suit me.
"I like scoring goals and Arsenal create a lot of chances, so if I do well, then we will do well.
"Of course, there are big strikers here, it is a big club and there will be a lot of competition for places, but it is up to me to win my place."
Giroud had transfer options all over Europe but admits the chance to work with Arsene Wenger played a big part in his decision to head to Emirates Stadium.
"The manager has always been about developing and I hope he can continue to do that with me too," said Giroud, who played in the same Tours side as Gunners centre-half Laurent Koscielny.
"I am happy with my choice, and I think that he brings a lot to the French players that are in the team.
"I can see what happened to me until now and I hope to continue to progress and show that I can impose myself at the top level.
"It has been great, right now I want to live it to the full, and I will savour this chance."
Presence
Wenger feels Giroud will bring another "dimension" to his squad, which has already been bolstered by the arrival of Germany forward Lukas Podolski.
"Olivier has a very good physical presence and is exceptional in the air, with a great work ethic," said the manager.
"We are excited about Olivier joining us and he will add an additional dimension to our attacking options next season.
"He has proved that he is capable of performing at the top level with club and country, and we saw what a big influence he was in Montpellier's championship-winning side last season."
Arsenal have been busy already in the transfer market this summer but more changes are expected to the Gunners' forward line in the coming months.
The club still hope to persuade Robin van Persie to stay, while the likes of Marouane Chamakh, Carlos Vela and Nicklas Bendtner could all be set to leave Emirates Stadium permanently.