Fergie - RVP only wanted United
Sir Alex Ferguson does not think Robin van Persie would have left Arsenal for any club other than Manchester United.
Last Updated: 17/08/12 1:12pm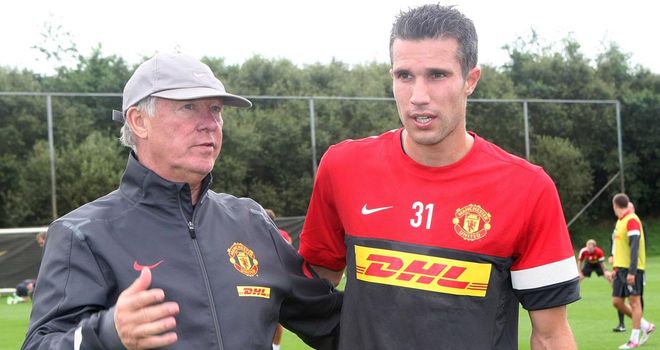 Sir Alex Ferguson does not think Robin van Persie would have left Arsenal for any club other than Manchester United.
The Old Trafford giants finally completed a £24million deal for the former Gunners captain on Friday morning and the striker has signed a four-year contract.
United's derby rivals and defending champions, Manchester City, and Italian title winners Juventus had also both wanted Van Persie.
But the Premier League's leading scorer from last season with 30 goals only wanted to join 19-time kings of England and three-time European Cup winners United, according to Ferguson.
The United boss told MUTV: "The boy wanted to come. He turned down various clubs.
"If he hadn't told Arsenal he wanted to go to Manchester United, the transfer wouldn't have happened."
Ferguson admitted he thought it would be impossible to get Van Persie to sign from their fierce foes but had to make an attempt when he did not want a new contract with Arsenal.
Frustrated
The Scot now also has the challenge of deciding the best selections from Van Persie, Wayne Rooney, Javier Hernandez, Danny Welbeck and even Dimitar Berbatov, who is still at the club.
Such a powerful strikeforce has been compared to United's Treble-winning options of Andy Cole, Dwight Yorke, Ole Gunnar Solskjaer and Teddy Sheringham in 1999.
And Ferguson said ahead of United's first game of the season at Everton on Monday: "It has given everyone a lift. I have a complication to my life (selection). I don't know how I managed in 1999.
"They can gel together. Robin's best position is furthest up the pitch. The most important thing is to win what we want to win. These players can help us to do that."
City had been trying to sign Van Persie but manager Roberto Mancini appeared to concede defeat to United at the end of July.
"I told you three weeks ago that he would either stay at Arsenal or join another club but not us," Mancini said at a press conference on Friday.
Fantastic player
Asked whether he was frustrated to miss out on Van Persie, he said: "No, we have four strikers so it was impossible to put another striker in the squad, even though he is one of the best."
Mancini also thinks the signing of Van Persie inevitably makes United stronger, having already suggested City's derby rivals could be favourites in this season's title race.
"I said this seriously. United have played for the title every season for 20 years," he explained. "Just because we won the championship last time we can't change that.
"For this reason they are favourites for the title. Now they have Van Persie as well. He was the best striker last year, a fantastic player.
"With Rooney it will be one of the best partnerships in the Premier League. Van Persie is one of the best strikers in the world. Maybe they bought him because they needed another striker.
"Now they are better, for sure. Any team who have bought Van Persie will be better."