Wenger urges Gunners focus
Arsene Wenger believes Arsenal cannot afford to switch off for a second when they travel to Stoke this weekend.
Last Updated: 24/08/12 3:58pm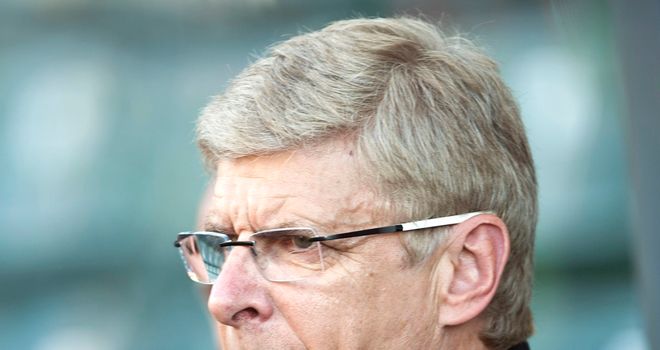 Arsene Wenger believes Arsenal cannot afford to switch off for a second when they travel to Stoke this weekend.
The Gunners opened up the new Premier League campaign with a frustrating goalless home draw against Sunderland.
Wenger's men will be hoping for better at the Britannia Stadium on Sunday and the manager knows just what reception to expect.
Experience
"They are teams who have experience of the Premier League who know how to make life difficult for you, who have specific style that is always difficult to face," he said.
"They are a team who defends very well, and their football is based on efficiency and that always demands a great concentration level."
The Gunners have begun their new season without Robin van Persie and Alex Song, who were both involved in high-profile transfers to Manchester United and Barcelona respectively.
Wenger insists Arsenal did not sell Song because of a bad attitude from the player, adding: "He wanted to go and we had the players in place who can replace him."
The club have not signed any players since the duo's departure but Wenger has rejected suggestions Arsenal are no longer an attractive destination.
"We have more problems to say no than get a yes. 99% of the time it is because we don't want it or the financial positions are not what we want them to be," said the Gunners boss.
"You would be surprised at the people who want to join us. Why? Because we are top of the European game.
"We have one quality at this club. We are brave. It is not because you push us to do something that we do it.
"Secondly, we sit down and anticipate the problems we face.
"We took the decisions, now we have to show they are the right ones. That is what is at stake."
Meanwhile, Wenger has revealed he has spoken to defender Andre Santos following his arrest for dangerous driving, with reports suggesting speeds of up to 130mph.
Apology
"He has apologised, he was speeding excess over the limit - but he did not try to escape the police," said Wenger.
"The charge which was retained against him was not dangerous driving, but careless driving.
"He will face the charge at the tribunal, and accept his sentence."