Arsene Wenger takes cautious approach over Jack Wilshere's Arsenal return
Arsene Wenger says Arsenal will take a cautious approach over how Jack Wilshere is nursed back into action.
Last Updated: 21/09/12 3:19pm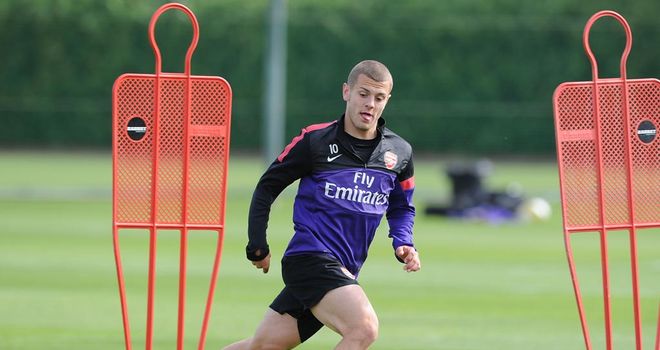 The midfielder finally returned to full training on Thursday after an ankle injury sidelined him for the whole of last season.
The Gunners boss, though, will take no chances with the 20-year-old and said: "We will see how he responds to the training now.
"We will have to be a bit patient, a bit cautious, because when a guy has been out for 14 months it takes a while to get back to match fitness.
"Jack is fit to practise and play, but to put high-level performances in takes time. He will need a few games in the reserves."
Midfielder Emmanuel Frimpong is also closing in on a return, having been sidelined by a serious knee injury suffered while on loan at Wolves in February.
Wenger feels the Gunners can head to the Etihad Stadium to take on Premier League champions Manchester City in confident mood of a positive result, and does not expect the Blues' late defeat at Real Madrid to play a major impact.
"I expect them to be focused and play well, but it was a disappointment for them of course. It always takes a little bit away from you," he said.
"But on our side, let's not have any speculation of the weakness or strength of them, let's focus on us to be at our best.
"If we are at our best I think we have a great chance to get a good result there."