Arsene Wenger taking criticism of Arsenal on board but feeling confident
Arsene Wenger will listen to criticism of Arsenal but is in no doubt his side are moving in the right direction.
Last Updated: 24/09/12 10:14pm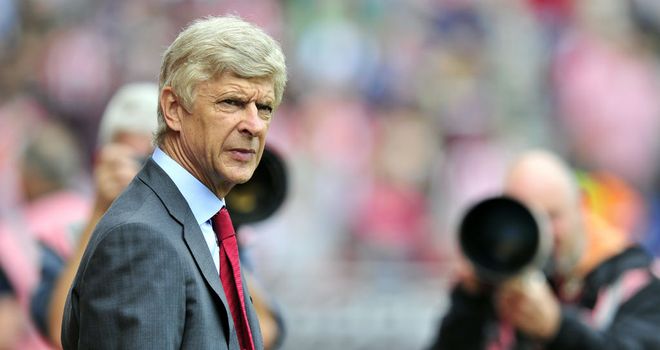 Many pundits expected the Gunners to struggle after losing Robin van Persie and Alex Song this summer but they are unbeaten after five games and on Sunday became only the second team to take points off City at the Etihad Stadium since February 2011.
Arsenal were the better team for much of the game but trailed to Joleon Lescott's first-half goal until Laurent Koscielny scored an equaliser eight minutes from time.
There were familiar weaknesses from Wenger's side, most notably poor defending for Lescott's goal and a failure to turn possession into goals, but the Frenchman did not see too many negatives.
He said: "I take this criticism on board because we conceded a goal from a corner but Manchester City are a team who score more goals than anybody else from set-pieces.
"It's true that we missed chances, but when you have the basic quality we have shown I believe the rest you can improve."
Mannone praise
Koscielny would almost certainly have been a substitute had captain Thomas Vermaelen not been ruled out by flu, and the Frenchman grabbed his chance with both hands, showing wayward forward Gervinho how it is done with a superb finish.
And Wenger has already admitted choosing between Koscielny, Vermaelen and Per Mertesacker is one of his most difficult decisions.
Another man keen to take his chance was goalkeeper Vito Mannone, who again replaced the injured Wojciech Szczesny.
The Italian was partially at fault for Lescott's goal as he came out to claim David Silva's corner and got nowhere near it, but he also made good saves from Sergio Aguero, Edin Dzeko and Vincent Kompany.
Wenger said: "Mannone had a good game again, he was very solid. He made a little mistake from the corner and was very frustrated with it, but overall I'm happy that it didn't affect his game afterwards. He looks very solid, I like what he's doing."
Mannone was also content with the way he responded to his mistake, telling Arsenal's official website: "I was not happy with the goal, obviously, but I came back stronger with some saves.
"The team performed really well and everyone gave everything to come back and get a point. Every save that can help the team, I am really happy with."