Arsene Wenger admits Arsenal were keen on signing Eden Hazard
Arsene Wenger is looking forward to facing Chelsea despite seeing summer target Eden Hazard shine for the Blues.
Last Updated: 28/09/12 9:08am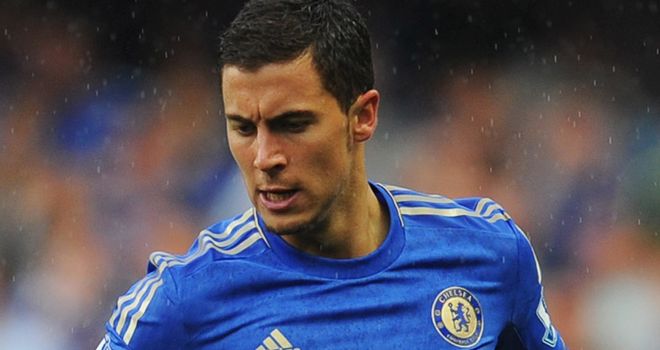 Hazard opted to make the move to Stamford Bridge from Lille in the transfer window after considering a number of Premier League options.
Manchester United and Manchester City were strongly linked with moves for the Belgian playmaker, while Wenger admits he had also been in the hunt but Arsenal were unable to compete.
"Yes,'' Wenger said when asked if he had been keen on Hazard. "The transfer price was fixed, because he had a clause, so everybody was at the same level.
"He has been voted best player of the French league two consecutive years. You need some quality to do that at his age.
"Let's not forget that all the big budgets in England were after him. We are not scared to spend the money, but we feel that even if we spend our money, with some clubs we can't compete on certain players."
Wenger will have to come up with a plan to combat Hazard when Chelsea visit Emirates Stadium this weekend, when Arsenal's title credentials will again come under scrutiny.
The Gunners manager is expecting a different sort of game to previous encounters against the Blues, saying: "Chelsea have gone with a different style, they have rejuvenated because they bought some very young players with maybe a more technical style.
"They have gone a little bit more creative. Until now it has worked well for them so it is a good challenge for us to beat them."
It will be the first match between the teams since Chelsea won the UEFA Champions League in dramatic style at the end of last season.
Wenger was impressed by the battling qualities shown by Roberto Di Matteo's men in Europe, even though he believes fortune was on their side.
He said: "They were close to winning it before but the accumulated experience, the tenacity they've shown and a bit of luck as well got them the trophy. You have to congratulate them for that. Maybe before they had a better team and were unlucky.
"Last year they had that kind of luck. But you must give them credit for the consistency and attitude they showed in the games where they were dominated and the mental strength to finally win it."