Arsenal winger Theo Walcott relishing Saturday's showdown with Chelsea defender Ashley Cole
Theo Walcott is relishing going head-to-head with England team-mate Ashley Cole when Arsenal tackle Chelsea.
Last Updated: 28/09/12 12:43pm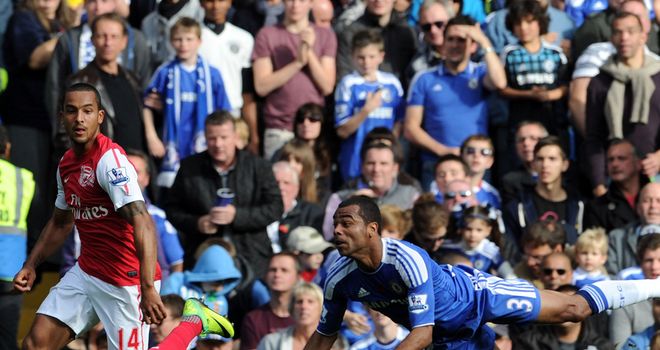 Walcott rates the former Gunners left-back as one of the leading players in the world in his position, but feels he has the edge over the 31-year-old.
The former Southampton flyer is looking forward to another 'good battle' with Cole in Saturday's Premier League encounter at Emirates Stadium.
Walcott was on target in last season's memorable 5-3 triumph over the Blues at Stamford Bridge and also found the net against the same opponents the previous season.
"I don't mind scoring against Chelsea," Walcott told the Daily Star. "I've done well against them - they must probably hate me, to be honest.
"I don't mind playing against Ashley either. I like playing against him.
"He is one of the best left-backs in the world and we have some very good battles against each other - in training as well for England.
"Maybe in the past few years I have had the edge on him. So I am sure when he sees all this he will be frustrated and he will probably want to kick the hell out of me, which is fine!
"He is doing fantastic at the moment and to be that great for so long is an incredible achievement and it is a great honour to play with him."