Chelsea manager Roberto Di Matteo has hailed Santi Cazorla's impact at Arsenal
Chelsea boss Roberto Di Matteo has praised Santi Cazorla for making light of the transition from Spain.
Last Updated: 28/09/12 6:10pm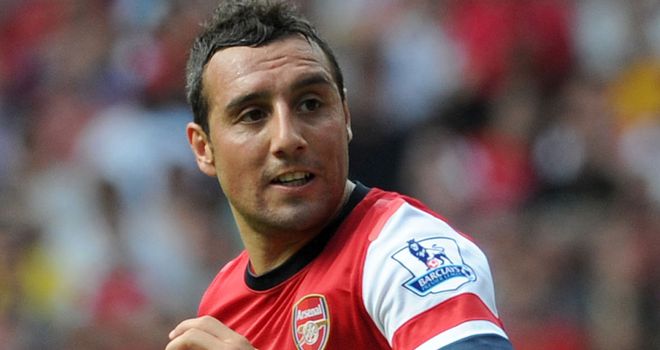 Cazorla joined the Gunners from Malaga in the summer and has made a superb start to his career at the Emirates Stadium.
But the Blues have a new playmaker of their own with £32million signing Eden Hazard set to have a key role to play in the early kick-off at the weekend.
Di Matteo is impressed with how the pair have adapted so quickly - just like his own Spanish wizard Juan Mata did a year earlier.
"There's always a bit of concern when players come in from another league. It can take time," said the Chelsea boss.
"We had the same experience with Mata last season, who really settled in very quickly."
"[Cazorla is] a very exciting player to watch, who's made an impact in Arsenal's team. He's been a bit of a highlight so far."
Unbeaten
Arsene Wenger's side have made an unbeaten start to the season adding to speculation that they can land a first trophy since 2005 and Di Matteo expects them to be among the challengers.
"I said at the start of the season they would be challenging for the league," Di Matteo said.
"I'm not sure anyone believed me, but that's the way I saw it. I haven't changed my mind.
"They have signed some very good, interesting players.
"They have been playing the same kind of football for many years, so they'll be up there with the other teams."
Asked if he regarded this as a clash between two Premier League title contenders, Di Matteo added: "It looks that way at this minute. It will be, yes.
"It's very competitive. All these teams have signed players to improve their team. There might even be a late runner coming back in."