Arsene Wenger says Arsenal have stepped up hygiene controls to try and prevent the spread of a virus
Arsene Wenger has revealed he may ban handshakes in order to prevent the spread of a virus among the Arsenal squad.
Last Updated: 06/10/12 12:34pm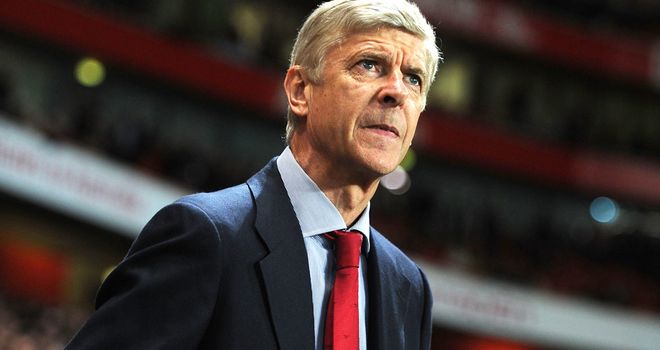 Per Mertesacker was the latest player to be struck down with flu-like illness and was forced to sit out the midweek Champions League win over Olympiakos.
He is expected to be fit again for Saturday's trip to West Ham but has joined the likes of Theo Walcott, Francis Coquelin and captain Thomas Vermaelen to have been struck by the vrius in recent weeks.
Wenger admits that the club have stepped up hygiene levels to try and prevent a significant outbreak and is even considering banning handshakes.
However, he remains confident that the danger has passed and there is need to take such extreme measures for now.
"We have improved the level of hygiene in the dressing room, we clean everything. It is funny, but shaking hands is one of the biggest things to spread virus," said the Frenchman.
"I shake hands with everybody, but we are advised not to do it when there is a high level of risk.
"At the moment it has passed and is not a high level. A few have it, but it is not (necessarily) the case that they got it here."
Wenger also revealed that the squad may have benefitted from the departure of Robin van Persie as there is no longer a focus on just one player.
The Dutchman was the standout player for the Gunners last season, hitting 30 Premier League goals and winning the PFA Player of the Year Award.
"When Van Persie was injured of course it's not only that you can't score goals any more, it is the psychological consequences on the morale of the team," he added.
"Players ask you already, 'does Van Persie play on Saturday or not?' when he has two or three days out."
Wenger also fired a warning to his players ahead of their clash with the Hammers at Upton Park and urged them to respond to last weekend's 2-1 defeat by Chelsea in the best way possible.
"You know your players need to be 100 per cent focused, because you can have a virtual domination, but one mistake and you lose the game," he said.