Germany coach Joachim Low believes a move to Arsenal has helped Lukas Podolski
Germany coach Joachim Low feels Lukas Podolski has improved since joining Arsenal and considers him to be indispensable.
Last Updated: 12/10/12 7:50pm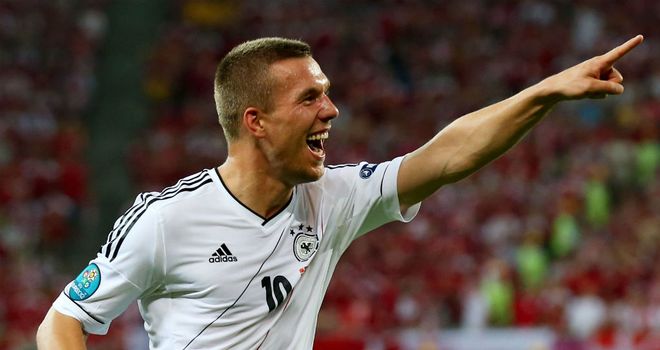 Podolski is among a select group of players to have been capped 100 times by Germany, with that landmark passed during Euro 2012.
It has, however, been suggested that the emergence of a new generation of forwards - led by Andre Schurrle, Mario Gotze and Marco Reus - would limit his future involvement.
Low has sought to rubbish such suggestions, with it his opinion that Podolski is a man for all occasions.
Low said: "I can only say positive things about him, even when he does not play.
"I have always been able to count on him for many years. That makes him indispensable for us.
"Even if he did not always start games, I always rated him very highly."
Low also believes that a summer switch to the Premier League with Arsenal has helped to make Podolski a more complete performer.
He added: "I always said it would be a good move for him. I think the progress he is making at Arsenal is very positive.
"He always has such a positive energy about him and is benefiting from his experiences with Arsenal."