Arsenal and France striker Olivier Giroud always believed in himself
Arsenal striker Olivier Giroud has claimed he always believed he would make it to the top of his profession.
Last Updated: 19/10/12 9:44am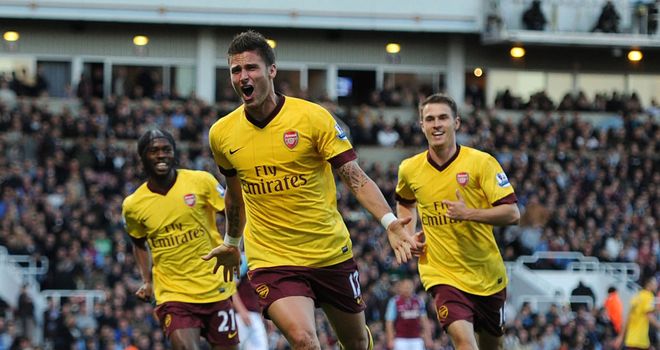 The France international scored an injury-time equaliser for his country against world and European champions Spain in midweek, emphasising his rise to the top of the game.
But unlike many players it was far from inevitable Giroud would get there, having continued to study to be a PE teacher until signing for French second-tier side Tours in 2008.
"I always had faith I would make it," the 26-year-old told The Times.
"But it is strange, thinking about those last two years. If you had said to me five years ago that I would be here today, I probably would not have believed you."
Giroud scored his first Premier League goal for the Gunners in their 3-1 win at West Ham last time out and he admits it was relief after a slow start to his career at the Emirates Stadium.
"It was a great relief to score against West Ham," he added. "I needed that goal, in the Premier League.
"That and then setting up our second for [Theo] Walcott was important for my confidence. Hopefully this is where it all starts.
"But I was never worried that I would not score. As a striker, you know you will always have periods when you score less, times when the goals start to look smaller than normal."
He added: "It is hard to stay confident and it is hard to remember that you cannot just lose the quality that you needed to get where you are.
"You have to work hard mentally to make sure you are playing with plenty of positivity. I have benefited from the support of lots of people in England - my team-mates, the fans, the coaches.
"There will always be periods of doubt for every attacker. It has happened before in my career too.
"But it took [Thierry] Henry nine games to score when he came to Arsenal, and Dennis Bergkamp seven, the same as me.
"If I can end up achieving as much as Bergkamp here, it will be OK."