Arsene Wenger worried by Chelsea's 10-point lead over Arsenal
Arsene Wenger admits he is concerned by the 10-point gap already between Arsenal and Premier League leaders Chelsea.
Last Updated: 22/10/12 11:59am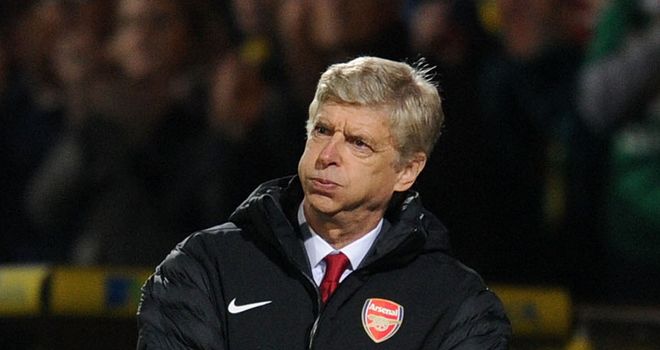 The Gunners dropped to ninth in the top-flight table after they were beaten 1-0 at Norwich on Saturday.
Grant Holt's early strike, when the Norwich striker pounced on a spill from goalkeeper Vito Mannone, condemned Wenger's men to their second defeat in three games.
And it left Arsenal well adrift of early pacesetters Chelsea following the Blues' 4-2 win at Tottenham.
"The gap is very unpleasant," conceded Wenger.
"We had an opportunity that Tottenham could win and we could win, and we both lost. That of course makes the gap a lot bigger.
"You cannot say you do not worry about that, but what is more disappointing is that we could not score.
"After we went 1-0 down we had the ball for 70 minutes and could not score a goal."
Wenger was left ruing the lack of attacking bite showed by his players at Carrow Road, but hopes they will learn from the experience as they look towards a top-four finish.
"There was always something missing - sharpness, decisiveness in the box. Offensively we were really not at our level," said the Frenchman, whose side return to action against Champions League visitors Schalke on Wednesday.
"It was a poor collective offensive performance, rather than one individual missing. We have scored goals until now, we were just poor.
"It is a good lesson but I would have preferred not to get it, because if you need lessons like that you will stand there at the end of the season and be full of regrets."