Serge Gnabry is doing his best to impress Arsenal boss Arsene Wenger
Serge Gnabry is enjoying the challenge of trying to make an impact at Arsenal and is hoping to play as much as possible.
Last Updated: 30/10/12 7:20pm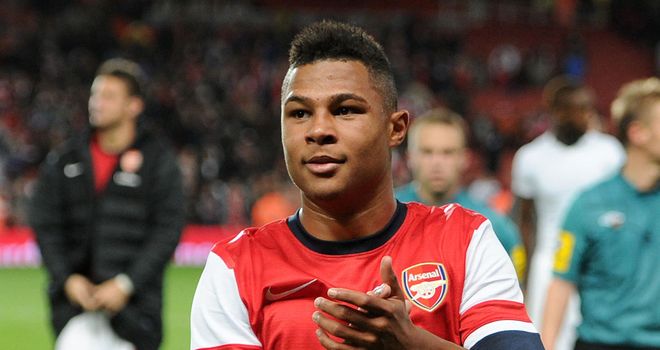 The German-born teenager made his Arsenal debut against Coventry City in the Capital One Cup last month before featuring as a substitute in the recent defeats by Norwich City and Schalke.
"I was just happy to get the chance to get on against Norwich and try to help the team," Gnabry said.
"Like all players, I prefer to start games, but when you watch from the bench you become anxious to get on and play and do something. It was the same against Schalke and that is why I felt comfortable.
"I enjoy football and so a chance to play for Arsenal was one I was eager to take to help the team, but also to show what I can contribute.
"I have a lot to learn and improve on and one way is to play games. It is a big challenge, but one I am enjoying and the fact that the whole team helps me makes it easier."
The versatile Gnabry believes the fact he remains an unknown quantity works in his favour, adding: "Defenders and other teams do not know about my game or my style of play, and perhaps that may help, but it is up to me to play my game and take advantage of that.
"I like to play on the left side of the pitch, but I can play on the right or in the middle. Anywhere the manager asks me to play, I will play and give my best.
"I know I am still young and have much to learn, but the faith that the manager has shown in me has given me a big boost.
"I'm looking forward to more opportunities to play for the first team so that I can make a real contribution."