Arsene Wenger wants Theo Walcott to stay at Arsenal and backs his striker hopes
Arsene Wenger believes Theo Walcott can fulfil his potential as a striker at Arsenal, despite contract talks stalling.
Last Updated: 06/11/12 10:42am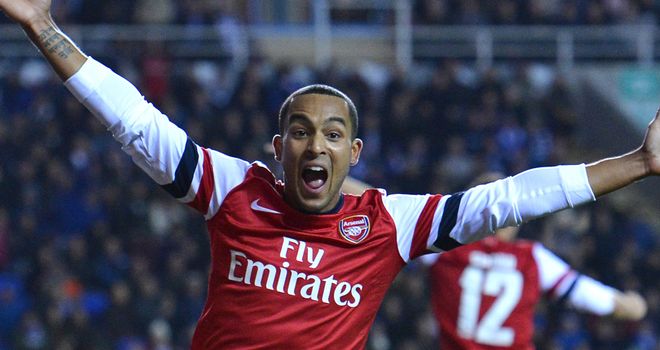 Discussions between player and club hit a sticking point recently with the Gunners unwilling to meet Walcott's wage expectations, while the former Southampton man is also eager to play in a more central attacking role.
The 23-year-old underlined his goalscoring threat by firing a hat-trick in Tuesday night's thrilling 7-5 Capital One Cup victory over Reading.
Arsenal may be forced to sell Walcott in January if they fail to reach an agreement, but Wenger hopes he will remain at Emirates Stadium.
"Theo was superb last night. I always said that he will be a striker, so we are on the same wavelength there," he said.
"First of all he is a good finisher now. Secondly, he knows where to be in the box on the rebound.
"That's a quality of a striker you can't give, you feel it or you don't.
"He has the qualities to play as a striker and I hope he will be a striker at Arsenal. I always said I want to keep him.
"During the contract talks you have to give him credit for the way he's committed to the team and the way he behaves."