Arsene Wenger says Arsenal's trip to Manchester United is not about revenge
Arsene Wenger insists Arsenal will not be out for revenge after last season's 8-2 thrashing when they visit Man Utd.
Last Updated: 03/11/12 3:41pm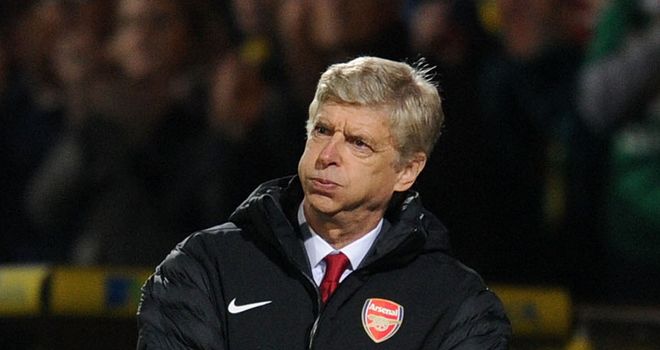 The Gunners suffered humiliation when they last visited their Premier League rivals and have not won there since September 2006.
But Wenger says Arsenal will not be looking to avenge last term's heavy defeat in Saturday's lunchtime kick-off and pointed out he plans to field an almost completely different side to the one on the end of that thrashing.
"Do we want revenge? No," the manager told the Daily Mirror.
"I will not mention last season at all. Ninety per cent of the players who will play on Saturday have not played in this game.
"I believe, of course, there is an emotional aspect to a result like that.
"But on a footballing front, I don't think you give too much importance to a result like that.
"It is down to a team being much better than another that the scores are high, or down to special circumstances.
"On the day, I think the result was down to special circumstances."
Behind us
He added: "That's why the emotional meaning is big but the footballing meaning is not very big, and we have had that behind us for a long, long time now."
Arsenal's North London rivals Tottenham beat United 3-2 when they visited Old Trafford in September, which has strengthened Wenger's belief his side can claim three points on Saturday.
"Tottenham beat them at home this season, so there is certainly an opportunity," he said.
"If we do well in this game, we can come closer to Man United and we'll have played mainly all the big teams away from home. So for us it is a very important game.
"We know that will be vital because it looks like many teams can beat each other. It is very important for us to do well against the big teams."