Arsenal's Andre Santos sorry for shirt swap with Man Utd's Robin van Persie
Andre Santos has apologised after his half-time shirt swap with ex-Arsenal team-mate Robin van Persie at Old Trafford.
Last Updated: 06/11/12 7:13am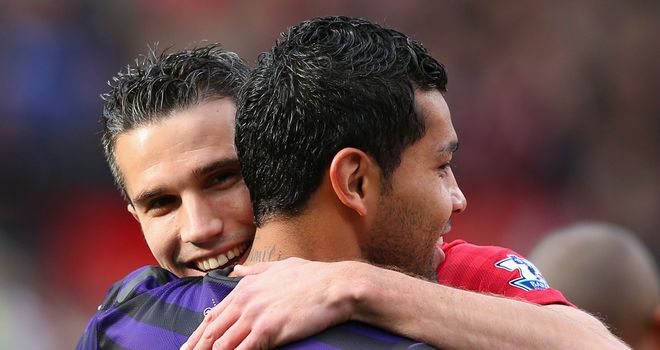 The left-back endured a tough afternoon at Old Trafford and his decision to swap shirts with Van Persie as the players headed towards the tunnel caused a commotion.
Arsene Wenger has criticised Santos' decision to exchange shirts at that time, but the Brazilian has explained his actions and said sorry to supporters.
"Robin's departure to United did not turn him into an enemy for me," Santos told The Sun. "We remain friends and he talked about exchanging shirts, which is something players do all the time.
"Did I think it would cause such a commotion? Of course I didn't, otherwise I would have told Robin to exchange shirts away from public view. That's why I'd like to apologise to supporters who felt aggrieved by it.
"I just want people to understand he is my friend and I wouldn't treat him differently because of the move to United.
"He approached me at half-time and at the time I did not think it would create such an uproar. I would never refrain from saying 'hi' to a good friend.
"It surprised me that people latched on to a gesture that promotes friendship and fair play.
"Arsene Wenger had asked the supporters to show respect towards Robin, after all."