Arsenal's Jack Wilshere says his enforced break this weekend may do him some good
Arsenal midfielder Jack Wilshere admits his upcoming one-match ban may prove to be a blessing in disguise.
Last Updated: 07/11/12 4:27pm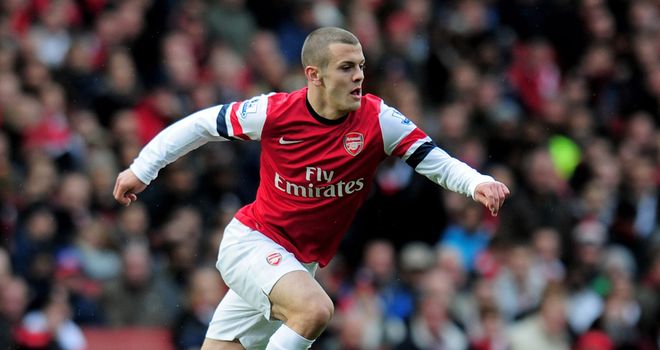 The England international returned to action recently after missing the whole of last season due to injury and completed his first full 90 minutes for the first team on Tuesday night at Schalke.
But he will be on the sidelines for the visit of Fulham on Saturday because he has to serve a one-match ban after he was sent off at Manchester United.
However, Wilshere said: "It's disappointing to miss any game but, if I think about it another way, maybe it will be good for me to have a little break and come back for the Tottenham game (a week later).
"It's a long season so I need to take it easy a bit but I am looking forward.
"Last night (Tuesday), I felt better than I did over the weekend and the weekend before that, so I am feeling better after each game."
Regarding his injury-enforced lay-off, Wilshere added: "I'd had a good season and was looking to push on so to have a setback like that was heartbreaking, but now I'm back.
"I am still doing my maintenance work in the gym and am keeping fit. Every day I need to work hard and get back up to the level I was at."
Wilshere also said that he is hopeful team-mate Theo Walcott will sign a new deal and stay with Arsenal.
Walcott's contract expires at the end of the season but he was back in the starting line-up in Schalke and scored the opener in a 2-2 draw.
"Theo has been great," said Wilshere. "His future is down to him and the boss to sort out.
"I hope he does sign. He has been great for us. He's an English lad and great to have around."