Manager Arsene Wenger is not fazed by critical voices among Arsenal fans
Arsene Wenger is unworried by dissenting voices and feels their opinions are not felt by the majority of Arsenal's fans.
Last Updated: 28/11/12 4:04pm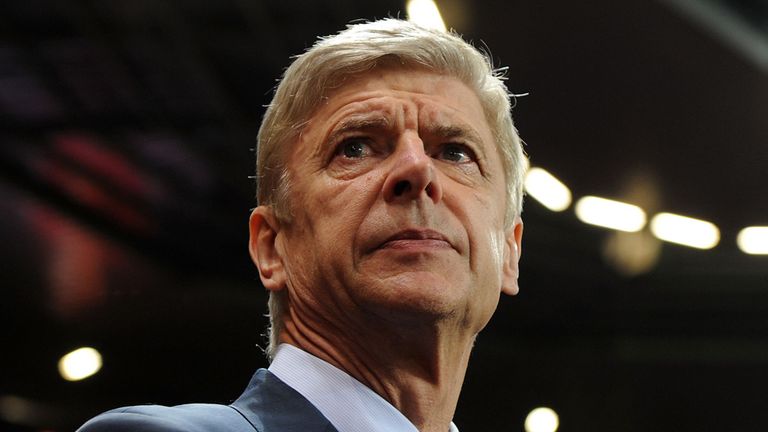 The Gunners head to Everton on Wednesday evening looking to close the gap between themselves and the top four of the Premier League, but a sustained bid for the title already looks out of reach as they trail leaders Manchester United by 10 points.
Some sections of the Arsenal support voiced their disapproval during the goalless draw at Aston Villa on Saturday - with chants of "you don't know what you're doing" greeting the second-half substitution of striker Olivier Giroud for defensive midfielder Francis Coquelin.
Wenger, though, insists focus of doing the job required on the pitch will remain unmoved.
"In the modern media service, the extreme opinions are picked and sold like a majority, what (that) is not always the case," said the Arsenal manager.
"Those who shout the loudest are usually presented because they are interesting and easy to sell, but they do not represent the majority always of opinions.
"That some fans are not happy when you play 0-0 at Aston Villa, I can understand because I am not happy.
"I want to win the game as well, but I do not share the fact that always the minority is presented like everyone thinks like them."
After some 16 years at the helm, during which Wenger oversaw the transformation of the Gunners to become undefeated Premier League champions in 2003/2004, the Frenchman insists he is "not worried" by voices of disapproval.
He said: "We don't give too much importance to those fans' reaction. Our job is somewhere else, on the football pitch, to give our best on the pitch. The rest? If you are at this table and you have any emotional reaction, you have nothing to do in our job.
Potential
"My job is to get the best out of my team with the potential we have.
"At the end of last season we finished third. Honestly I don't think there was much more in the team than finishing third. My pride comes from that as well.
"When we won the Premier League with zero defeats, which nobody else has ever done, you can think there is not much room to do much better.
"At the end of the season, I want to stand in front of my mirror and think, 'could you have done more?'."