Champions League: Arsene Wenger rejects accusations Arsenal are in crisis
Arsenal boss Arsene Wenger has angrily denied the club are in a mess after poor results and fan protests.
Last Updated: 04/12/12 4:05pm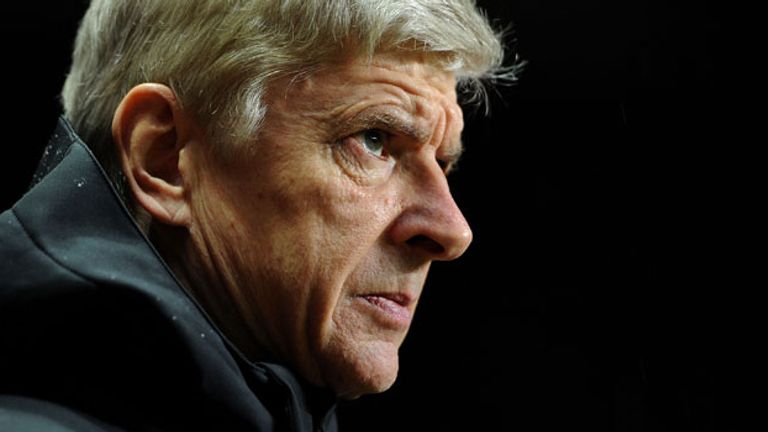 The Gunners are in Athens for Tuesday's final UEFA Champions League group stage clash with Olympiakos on the back of a 2-0 home defeat by Swansea which was clouded by supporter demonstrations and reports of player unrest.
Some critics have also suggested it was time for the Frenchman to depart after 16 years at the helm and still without a trophy since their FA Cup win in 2005.
When asked about stories of a dressing room bust-up at the weekend involving assistant boss Steve Bould, Wenger said: "That is not true at all. There's nothing more irritating than superficial information nowadays.
"It would be better that people are a bit responsible for what they write. I take my responsibilities, but informing people in the wrong way is bad as well and it's time for some people to realise that."
Despite qualification in the Champions League knockout stages assured, events on the domestic front have not been so smooth. Sitting 10th in the Premier League means it is their worst start to a season since 1994 and they are 15 points behind leaders Manchester United.
On suggestions there was a crisis at the club and he now lacked support from his players, Wenger added: "You should look a little bit at the statistics and not only read the newspapers.
"I only have one pressure and that is to win the next football game and to play the football I love. All the rest, I don't think that affects me at all. You would be surprised.
"Nothing really happened after Swansea. That the players are not happy after the game, do you want them to do a dance after we lost?
"This group of players is very strong, very highly motivated, has a very good spirit and they want to win. If they don't win, of course they are upset.
"I am more worried if I see players who laugh in the shower after a game that we lost. We are in a job where the next game is the only important thing, that is how you can show how good you are.
"The situation is at the moment we are behind in the league, we want to make ground back, we are qualified for 13 consecutive years in the Champions League, we are qualified in the quarter-finals of the Capital One Cup and we have our chances in the FA Cup like everyone else.
"We have many challenges and that is what we want to focus on."
Asked if he would swap places with Manchester City, who failed to reach the knockout stages of the Champions League once again, Wenger said: "No, for one simple reason, we have played 15 games, so we have 23 games to come back on them, but once you are out of a cup competition, you cannot come back in again.
"We can make up the distance in the league, but in the Champions League, you are either in or out."