Arsenal striker Olivier Giroud praises Arsene Wenger for sticking to his philosophy
Olivier Giroud believes Arsenal boss Arsene Wenger must continue to stick to his philosophy.
Last Updated: 08/12/12 12:56pm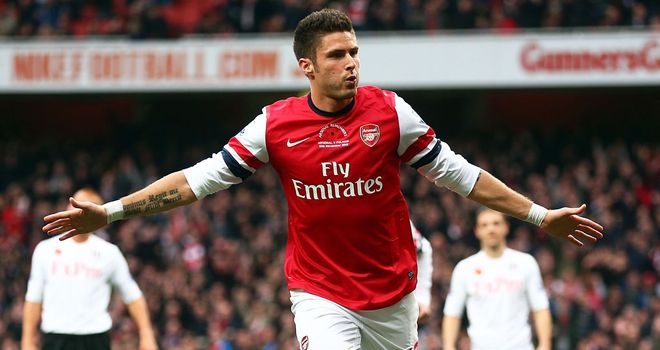 The Gunners have made their worst start to a Premier League season for 18 years having won just five of their opening 15 games.
However, the France international striker - who has scored seven goals in 22 games since his £12million move from Montpellier - uses his own story as a perfect example of why it is important for Arsenal to create their own identity.
Giroud insists it is possible to win titles without taking the chequebook out and claims it takes time to build a winning team.
He told L'Equipe: "My story proves that you can win titles without being a star. Manchester City became champions thanks to their chequebook. Montpellier took on PSG without using their chequebook. Here we bought Santi Cazorla and he did not cost 50 million! Arsene Wenger does not buy a team. He builds one. He built his group with this philosophy.
"Even though it's been seven years since the club won anything, they have a strong identity. Even if the club lose some of their best players every two or three years, they do not deviate from this philosophy."
The 26-year-old is the 23rd Frenchman to play during Wenger's reign and he says it is up to the new crop to make sure the past is forgotten at the Emirates.
He said: "It is up to the new boys to make sure the others are forgotten. We need to be more efficient in all areas of the pitch - to be more realistic and to offer more variety.
"When you're attacking, you hope for more crosses. It is not spontaneous enough when we are in positions to cross. I have talked with my team-mates about this.
"Arsenal has the culture of the passing game, perhaps too much. I am not staking a claim to be the coach, but I am fortunate to be at a club where we can talk about such things."
Don't miss any live and exclusive football coverage this festive season. Click here to visit Sky Sports' Festive Calendar