Arsenal captain Thomas Vermaelen keen for Theo Walcott to stay
Thomas Vermaelen says Theo Walcott has been 'invaluable' and hopes a deal can be agreed to keep him at Arsenal.
Last Updated: 19/12/12 10:30am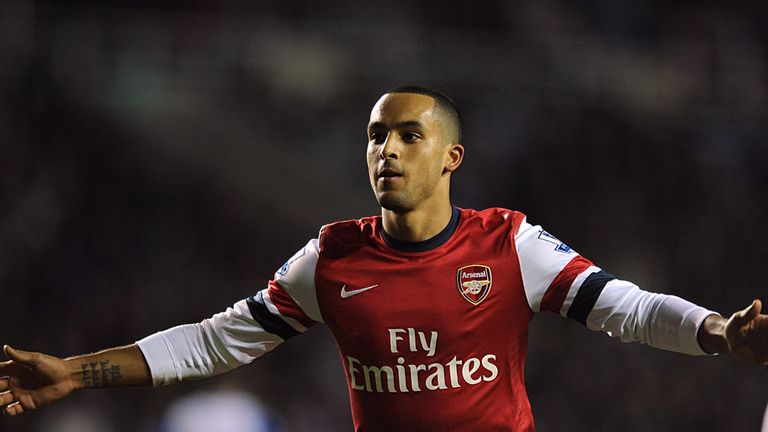 Walcott's contract is set to expire at the end of the season and he has been linked with a move away from Emirates Stadium in January as talks over an extension have yet to reach a resolution.
Vermaelen is not sure whether Walcott will stay as he insists the squad have not allowed the situation to become a distraction, but he believes it is important to hold on to a player of such quality.
"We want Theo to stay but that's something that's going on between the player and the club," said the Gunners skipper.
"Theo's been invaluable when he played this year. He is dangerous for us and I hope he stays.
"We know his qualities, he's quick and goes in behind defenders all the time - he can score a few goals as well.
"I don't know what is going on behind the scenes as we don't talk about it."
Walcott has made it clear that he would like to play as a central striker and, after impressing in the role against Reading on Monday, Vermaelen thinks it could be a tactic worth pursuing.
He added: "Theo played as a striker and did well. He can stretch a team because he has a lot of pace.
"That gives the midfielders a lot of room to play and, with our midfielders, that is a big plus."
Chasing top four
Arsenal's 5-2 demolition of Reading eased the pressure on everyone at the club following a shock Capital One Cup defeat against Bradford, and propelled them back to fifth in the Premier League.
Vermaelen said: "What we did in Bradford was a big disappointment because we want to win those games too.
"But in the Premier League, it is all really close for a Champions League spot and we are chasing the top four.
"If you play for a team like Arsenal, there are always going to be people outside you who are going to question the manager and the team.
"But you have to stay united and work hard on the training pitch because you are the only ones who know what's going on in the team.
"We had a lot to prove. A lot of people questioned us but we wanted to perform on Monday night and we did."
Don't miss any live and exclusive football coverage this festive season. Click here to visit Sky Sports' Festive Calendar