Bayern Munich chief Rummenigge warns their tie with Arsenal will not be easy
Karl-Heinz Rummenigge admits the Champions League tie with Arsenal will be "by no means easy" for Bayern Munich.
Last Updated: 20/12/12 2:32pm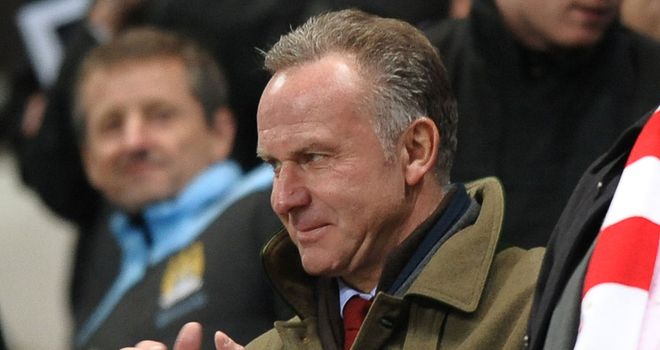 Last year's runners-up Bayern will face Arsenal at the Emirates Stadium before the return leg at the Allianz Arena for a place in the last eight.
Rummenigge said of the draw that placed them with Arsenal: "I think we enter this match as the slight favourites, but we can be making the mistake of underestimating them.
"Arsenal have struggled at times in the league over the last few months, which a look upon the standings in the Premier League will tell you. But by no means will this be an easy game for us. I look forward to our game in London and back home in Munich."
Meanwhile, Bayern deputy-chairman Karl Hopfner told Sky Sports of his satisfaction with the draw: "Now we have the first match in the competition (against Arsenal) in the Allianz Arena and we are happy to play against Arsenal. It's a long way to Wembley."
Bayern last faced Arsenal in Europe in 2005, running out as 3-2 aggregate winners. The first leg at The Emirates will be played on 19 February, with the return match at Munich's Allianz Arena on 13 March.
Arsenal communications director Mark Gonnella said: "They knocked us out that time (2005) but such is the level at this stage of the competition that whether you start at home or away there's not much in it.
"If you look at the statistics over time it probably proves that.
"So we've got to go out and get a good result under our belt in the home game and then see what we can do in Germany."