Theo Walcott says New Year's Day return to Southampton will be 'special'
Arsenal striker Theo Walcott says his return to former club Southampton on New Year's Day will be "special."
Last Updated: 02/01/13 7:26am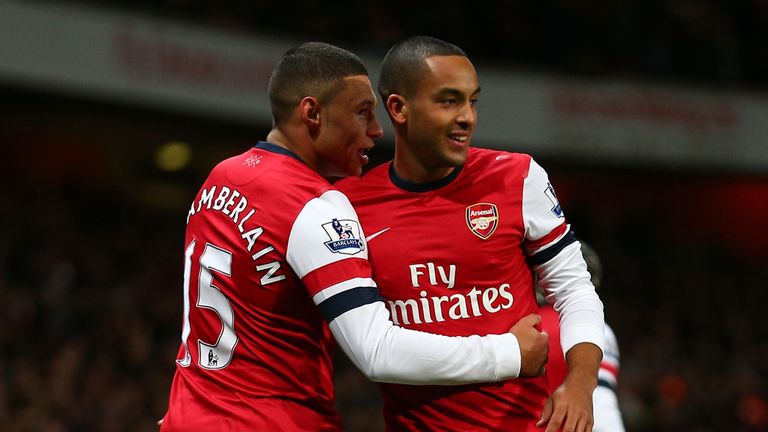 Walcott came through the youth ranks at Southampton before joining Arsenal in a big-money move as a raw teenager in January 2005.
Arsenal raided the Saints again last summer when securing Alex Oxlade-Chamberlain in a £12m deal.
Walcott's celebration when he scored against Saints in Arsenal's 6-1 victory earlier this season was muted, and he told the club's website: "It will be a very tough occasion against Southampton, but it is one I am really looking forward to.
"It will be a very special moment for me and Alex, and also for some of the fans to see us come back to the club."
Gunners boss Arsene Wenger feels Southampton deserve praise for their player development.
"They have done a fabulous job - you also look at Gareth Bale and what he is doing now at Tottenham," he said.
"It is down to the quality of their scouting, the quality of their coaching and education."
Saints boss Nigel Adkins said he was looking forward to seeing his former charge Oxlade-Chamberlain back in Hampshire.
"I think he will get a fantastic reception," the Saints boss said. "He is one of the players that came through out system.
"We are excited watching him play. We'd love him to still be at Southampton, but he is an Arsenal player now and an England international.
"I went to watch him against Reading the other night and he was exhilarating, with his acceleration to go away, a desire to get on the football. He is a joy to watch.
"I think everybody at Southampton is proud of what he is doing now."