Boss Arsene Wenger says fans will be desperate for big names to arrive at Arsenal
Arsenal boss Arsene Wenger is feeling the burden of needing to buy big and help boost the club's hunt for silverware.
Last Updated: 04/01/13 12:39am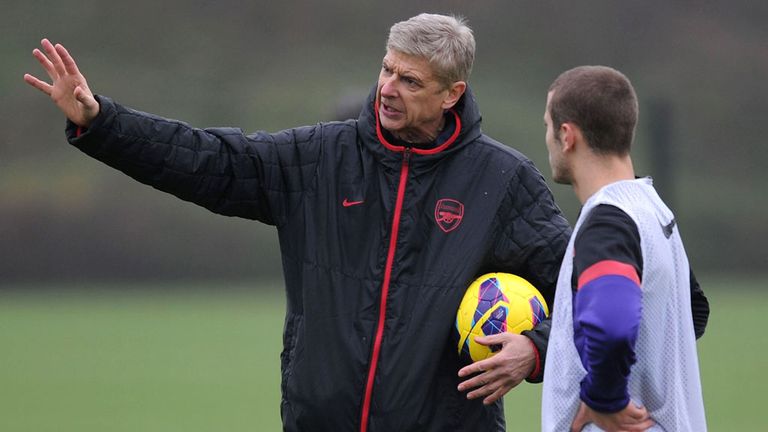 The Gunners have been linked with a £10m bid for Atletico Madrid striker Adrian Lopez, along with Crystal Palace starlet Wilfried Zaha and Schalke midfielder Lewis Holtby.
And with doubts still surrounding the future of Theo Walcott, the club will be keen to keep their loyal supporters on board and get involved in the January transfer window.
"It is very difficult because the level of expectation is very high - people want to see Lionel Messi come in, they don't want to see a promising guy," said Wenger ahead of their FA Cup visit to Swansea on Sunday.
"First of all the name gives hope. When a guy has no name people are already sceptical, so it's much more difficult for us."
Swansea look to have picked up the Premier League's bargain of the season £2m striker Michu, signed by manager Michael Laudrup from Rayo Vallecano.
With the Spaniard scoring both goals in the 2-0 win at Arsenal on 1 December, Wenger admitted the 26-year-old had not been high on the watchlist of the club's scouting network - now under more scrutiny to unearth a hidden gem.
"Sometimes when you are on a big club your scouts are a bit more cautious because they think 'oh, it is Arsenal it has to be a top four player', so naturally they are looking less at players who play at smaller clubs," the Frenchman added.
"You are always scared that he is a player who does not do well, the scouts are looked at as responsible. The competition is higher on scouting front, that is for sure.
"The country where we were really, really competitive was France, but now they produce less players than they did 10 or 15 years ago at the top, top level.
"The emerging countries now to produce players look to be Germany and Spain, who have many good young players."