Arsenal announce freeze on Emirates ticket prices
Arsenal have announced they will not be increasing ticket prices next season.
Last Updated: 29/01/13 4:51pm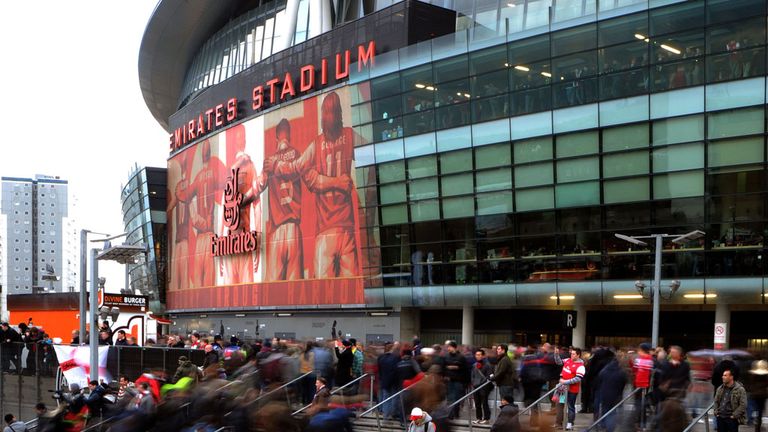 The London club's pricing structure became a subject of controversy earlier this month when Manchester City returned 912 unsold tickets for their Premier League game at the Emirates Stadium, with City fans unhappy at the £62 asking price.
"The price freeze applies to all match ticket prices including season tickets in both general admission and club level," a statement from Arsenal read.
"Club level season ticket renewals will begin on February 12.
"The move follows a full review by the Arsenal board which included an assessment of the current economic environment and feedback from fans' groups."
The Gunners have some of the highest season ticket prices in the Premier League, but have not delivered the success to match in recent seasons, having failed to win a trophy since moving to the Emirates from Highbury in 2006.
Arsenal Supporters Trust welcomed the move, and urged the board to divert some of the increased revenues from next season back into reducing tickets costs further.
A statement read: "AST welcomes Arsenal's decision to freeze prices and urges the club to continue to put downward pressure on ticket prices when other sources of revenue from TV deals and commercial deals are increasing.
"We are engaged in discussions with the club about the development of wider initiatives that offer cheaper tickets for young fans and make FA cup games more affordable."
The AST also called for a reduction in the cost of tickets for travelling fans, particularly given the criticism their club received when City returned their tickets.
"One urgent issue that must be urgently addressed is the price away fans are charged," the statement continued.
"Arsenal fans suffer from being charged very high prices wherever they go and the AST is pleased that fans from across the country are coming together to highlight this issue".