Stoke City manager Tony Pulis criticises Arsenal players after 1-0 defeat
Tony Pulis criticised the behaviour of Arsenal's players in Stoke City's 1-0 defeat at the Emirates Stadium.
Last Updated: 03/02/13 10:37am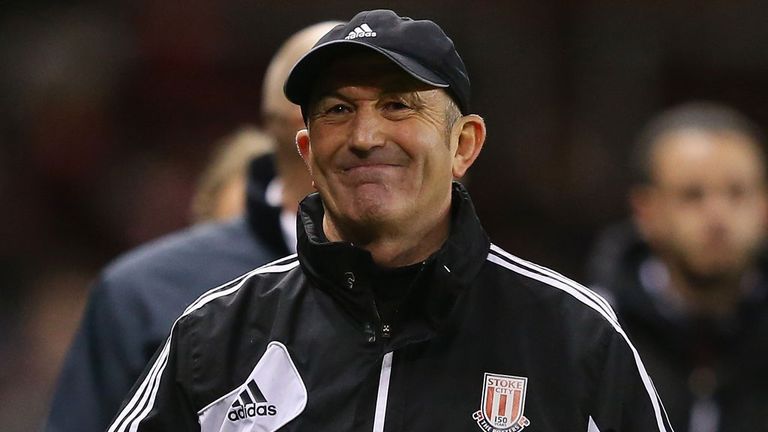 Lukas Podolski scored the only goal of the game with a deflected free-kick, but it came shrouded in controversy.
The linesman initially flagged for offside against Theo Walcott, but after Arsenal's players ran over to protest, referee Chris Foy overruled him and awarded the goal.
It was the correct decision given that Walcott was inactive, but Stoke boss Pulis was nevertheless irate.
He said: "The disappointing thing for me was the number of Arsenal players that surrounded the linesman. I thought that was something you couldn't do.
"If he has given the right decision, he has given the right decision. You take it on the chin and get on with it.
"I haven't got a clue what offside is now. When the linesman gives it offside, the way that Arsenal players surround the linesman, and the referee then goes over, I thought if there were more than five players, you're not supposed to do that. The referee has reacted after that."
Stoke worked tirelessly throughout the game, but adopted a defensive approach and showed little attacking intent.
Pulis was delighted with his players' commitment and defended his tactics, adding: "We are disappointed. I thought we deserved to get something out of the game. We worked really hard. The lads put a real shift in.
"We have done what we have come to do: frustrated Arsenal. If you compare the two clubs in terms of resources, it's not a level playing field, so you really have to dig in.
"They [Arsenal] didn't have that many clear-cut chances, but we didn't do enough in the final third."
Stoke are now without a win in six Premier League games and are still 10 points from the 40-point marker that historically symbolises safety.
Confident
But with the majority of their remaining fixtures being against mid-table or bottom-half teams, Pulis is confident Stoke can get back to winning ways soon.
He said: "Every manager is under pressure to keep their clubs in the Premier League and we are no different.
"We have got most of the big clubs out of the way now so we need to pick points up.
"It's difficult. You know you will have bad runs and good runs. You have got to make sure the players believe in themselves.
"I know why we have struggled of late. We have rectified it today."