Arsene Wenger defends Arsenal players' behaviour after Tony Pulis criticism
Arsene Wenger apologised for his players crowding the linesman during their 1-0 win over Stoke City.
Last Updated: 03/02/13 7:16am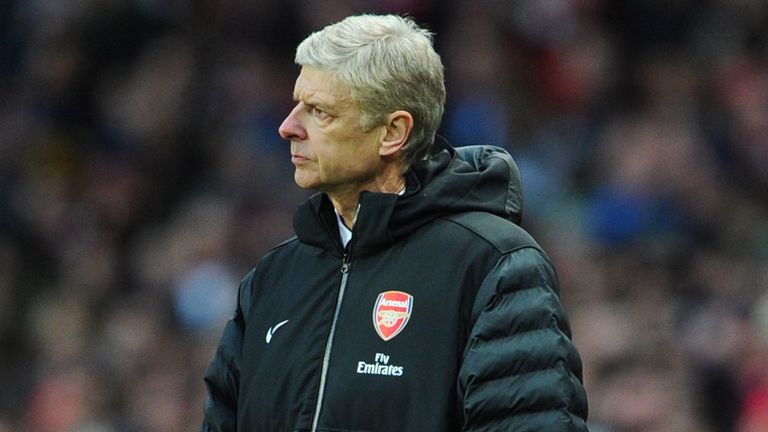 Several Arsenal stars rushed to the assistant after he flagged to disallow Lukas Podolski's deflected free-kick for an offside against Theo Walcott.
Referee Chris Foy correctly overruled the decision and gave the goal, prompting scathing criticism of the Arsenal players from Stoke boss Tony Pulis.
But Wenger said: "Who wouldn't do that? I am sorry if we did that, but we were trying to understand why the linesman disallowed the goal. We didn't do it in an aggressive way."
Wenger admitted he was relieved to emerge victorious from a game his side dominated but looked increasingly likely to draw. After Podolski saved the day with 12 minutes left, Wenger praised the spirit of his team.
"It was the kind of game where you draw 0-0 or win 1-0, so I am very happy we got the three points," he said.
"We didn't give up, we kept them under pressure. They were brilliant today.
"These players have a fantastic spirit and quality. We lacked belief [in the past] because we have been criticised a lot.
"The team took time to strengthen their belief, but the focus of the players is great and I am confident we will have a strong end to the season."
Lucky goal
Despite feeling his side deserved to win, Wenger admitted the goal was a fluke.
He said: "Their keeper made some fantastic saves, but we got a little bit of luck with the free-kick.
"If anyone was to win the game, it was us. We needed to keep our tempo and keep it tight. The goal was lucky, but we got what we deserved."
Victory lifted Arsenal to within one point of the top four, but Wenger insisted his side cannot afford any more blemishes this season if they are to qualify for the Champions League.
He added: "The results went our way today and it was vital to win. We know we cannot drop points."