Arsenal forward Lukas Podolski ready for tough Bayern Munich clash
Lukas Podolski remains proud of his time at Bayern Munich but is focused on achieving success with Arsenal.
Last Updated: 19/02/13 7:05pm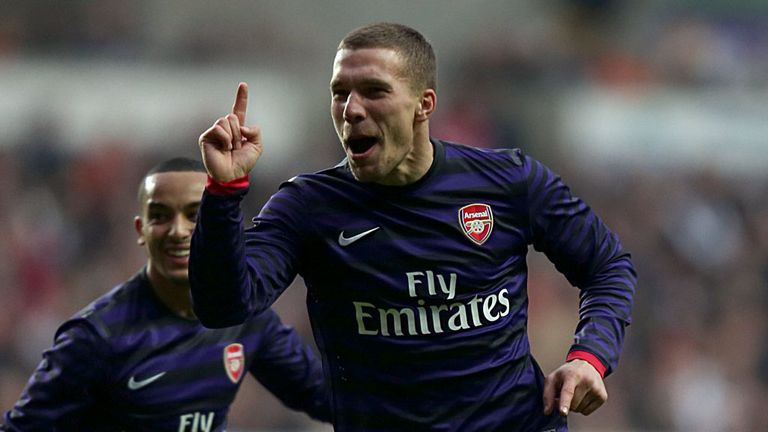 Podolski joined Bayern from Cologne in 2006 before returning to his boyhood club three years later and then making the move to North London last summer.
He is happy with life at Arsenal but hopes they can push on and challenge for European glory, although he accepts it will be difficult to get past Bayern.
"I feel settled in the Premier League. I was settled from day one because the players and staff at Arsenal made it easy for me." Podolski told The Sun.
"I have enjoyed my football so far but there are still a lot of things to do."
The fact that this season's Champions League final will be staged at Wembley provides Podolski with an added incentive to try and go all the way.
He explained: "It would be something amazing to play for a London team in the final of the Champions League at Wembley. Something very special.
"That is a dream, but there is a long way to go. First, we must play a great team - one of the favourites for the final.
"I had a great time at Bayern for three years. I have lots of memories of playing for the club and I am proud.
"I wish I had achieved more there. I won the cup and the league. Playing for Bayern was still a help, in my life generally. But it went so quickly.
"Bayern is in the past. Now I am at Arsenal and looking forward to achieving things here. I feel it is not productive when you talk about what did or didn't work."
Podolski added: "If I am being honest, it would be more difficult if Arsenal were playing Cologne. They are my team. My club. Emotionally, it would have been far more intense.
"I was there from the age of 10, joined Bayern, and went back there before playing for Arsenal."