Bayern Munich's Bastian Schweinsteiger praises Arsenal's Jack Wilshere
Bayern Munich's Bastian Schweinsteiger believes Jack Wilshere is good enough to take his place among the Arsenal greats.
Last Updated: 18/02/13 9:01pm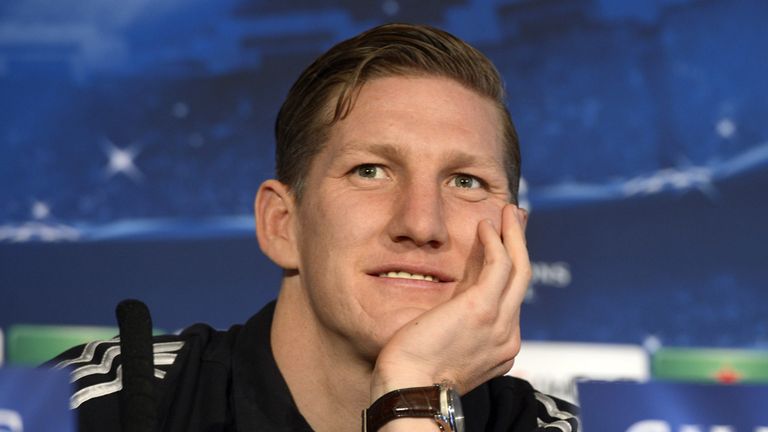 Ahead of Tuesday night's first leg of the UEFA Champions League last-16 tie, Schweinsteiger has labelled Wilshere one of the best midfielders in the world.
And the Germany international believes Wilshere, 21, can be the cornerstone of a Gunners' resurgence after admitting they have lost ground on their European rivals in recent years.
"Yes the days are gone when they had players like Tony Adams or Thierry Henry - maybe they are still wishing for those players," he said.
"But they still have a good team. You only have to look at Jack Wilshere who is an excellent player.
"After he was out for so long, he is back now and showing his form.
"In his position, he is one of the best players there is."
Wilshere's long-awaited return to Arsenal ranks this season was celebrated by club and country after he missed more than a year with a persistent ankle problem.
Despite his tender years, Wilshere has been celebrated as one of the finest technical players to come out of this country in a generation and Schweinsteiger, who has 97 Germany caps, agrees.
"It has a lot to do with his size," he said.
"Your typical English player is over six foot - I would say that with Jack Wilshere he has different movements.
"He is dynamic, he has a good left foot and he has a good eye for his players around him. Those are his talents."
Schweinsteiger rubbished suggestions, however, that stopping Wilshere at Emirates Stadium on Tuesday night will be enough to shut down Arsenal completely.
Wilshere, who signed a long-term deal at Arsenal in December, came off the substitutes' bench in Saturday's 1-0 FA Cup defeat to Blackburn after watching his team-mates fail to break down Championship opposition.
"I don't think one player makes a team - they do have 10 other players," he said.
"He is a very difficult opponent. We will try and minimise his influence on the game, but don't forget Arsenal is a very good team.
"Arsenal is not your classic English team. They have more of a European style with (Santi) Cazorla in there.
"I don't know why they haven't won a title for so many years because they have the capabilities.
"I would say Arsenal are still amongst the top-10 teams in Europe."