Arsenal's Theo Walcott desperate to repay the faith of Arsene Wenger
Theo Walcott says it is the responsibility of the Arsenal players to ease the pressure on under-fire boss Arsene Wenger.
Last Updated: 26/02/13 5:22pm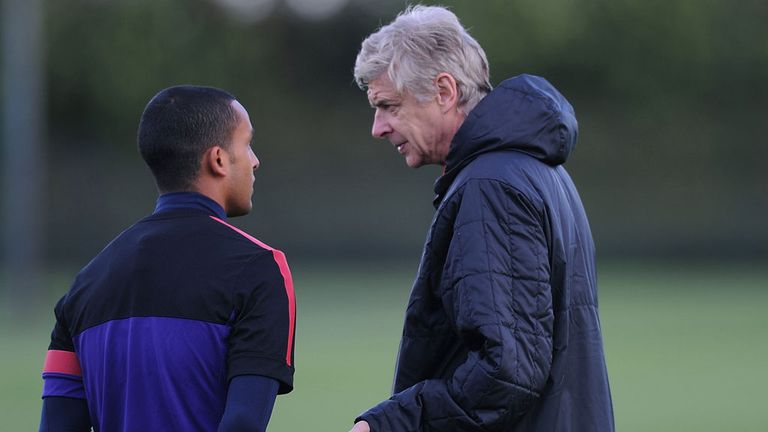 The Gunners are on course for an eighth straight season without a trophy after crashing out of both cup competitions to lower league opposition and a comprehensive 3-1 home defeat by Bayern Munich in the first leg of their last-16 Champions League clash.
A five-match unbeaten run in the Premier League has at least improved Arsenal's chances of forcing their way into the top four but that has done little to dampen the criticism of Wenger's reign.
Speaking in the March edition of the official Arsenal magazine, Walcott said: "The boss has always had so much belief in me from a young age, but we haven't won anything for a long time now, so we want to pay him back by winning something.
"If we don't perform he always takes it back on himself, but at times it is not fair because we are the players that go out there and do it.
"He definitely lets us know when we are not performing, though, which is the right way to do it."
The Gunners' pursuit of silverware has not been helped by a string of high-profile departures in recent seasons with the likes of Cesc Fabregas, Robin van Persie, Alex Song, Samir Nasri and Gael Clichy all deciding to pursue their ambitions elsewhere.
Walcott was widely expected to follow them out of the club this summer until he signed a contract extension last month and with young Gunners like Aaron Ramsey, Alex Oxlade-Chamberlain and Jack Wilshere all tied to long-term deals, the England forward believes the club is on the brink of success again.
Walcott added: "Once the team wins the first trophy, you will start to see us coming back to where we should be.
"When your team is playing well it makes your job easier and when you are winning games it is fantastic to be a part of it. However, it is when things aren't going too well that you need to stand out and get your team back involved.
"We have got players in the dressing room who can create something out of nothing, and I want to be part of that backbone.
"You see it when we go a goal down, everyone thinks, 'right, we need to step up here because it is not good enough', but if we do that from the start we can beat absolutely anyone.
"I think we will get to a stage when we win games even when we haven't dominated.
"We are starting to get there and as soon as we hit that target, I am sure we are going to be flying."