Santi Cazorla targets derby win to reinvigorate Arsenal
Arsenal's Santi Cazorla says the Premier League is more exciting than Spanish football and he is keen to win at Spurs.
Last Updated: 03/03/13 3:21pm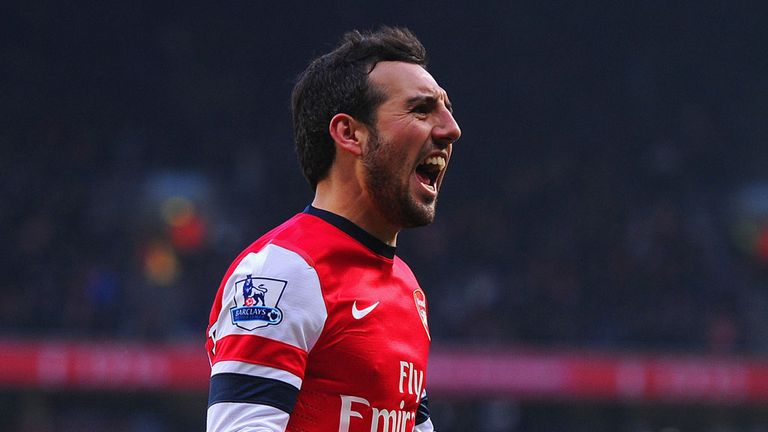 The Gunners currently trail their local rivals by four points and Cazorla accepts they cannot afford to fall further behind at White Hart Lane this weekend.
He believes a good result could provide a springboard for the rest of the season following some disappointing recent results.
"This is a very important match for us with regard to the Champions League," said Cazorla in the Daily Mail.
"If we lose it would be a difference of seven points, too big a gap.
"It's true we've been inconsistent. We didn't make it through in the Capital One Cup or the FA Cup but our aim is to be in the Champions League and hopefully we'll improve through the rest of the season.
"A win at Tottenham would invigorate the whole team. We're two points away from Chelsea but if we win this we will be one away from Tottenham."
Cazorla has enjoyed his first season with Arsenal after arriving from Malaga last summer, and is delighted to have scored 11 goals.
He said: "My previous record was nine with Malaga. It's something I'm always working on and this year I've been able to improve it. Hopefully there will be more before the end of the season. Every game I will try. Maybe I can reach 15.
"Compared to Spain, the football here is less tactical, but more fun to watch and play. There's too much technique in Spain and they are held back by it. This makes the match more boring. There's a better pace in England.
"There's also more space, especially for footballers like me, and more time to think. Teams always want to attack and score goals in England. In Spain they are locked down by tactics. And the atmosphere here is just amazing."