Carl Jenkinson blames lack of consistency for Arsenal's Premier League struggles
Carl Jenkinson says a lack of consistency has been Arsenal's downfall this season.
Last Updated: 04/03/13 6:07pm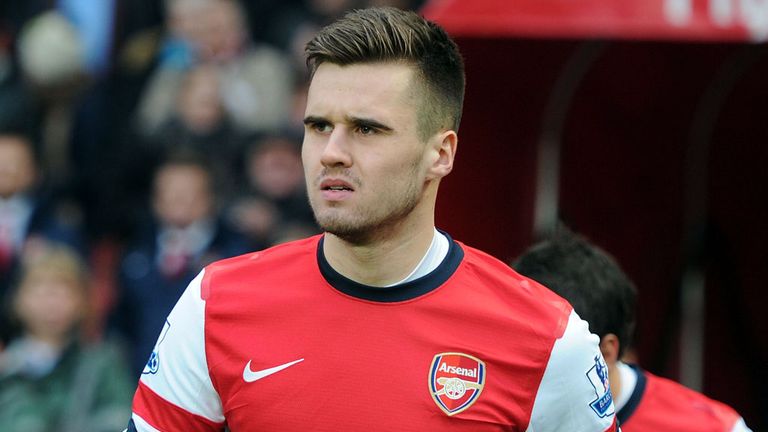 The 2-1 derby defeat to Spurs on Sunday left them fifth in the Premier League table as Arsenal face up to the prospect of failing to qualify for the Champions League for the first time since Arsene Wenger arrived at the club.
"On our day we can beat anyone," right-back Jenkinson told Arsenal's website.
"I genuinely believe that. When we play to our potential, teams can't come near us, but we need to do that consistently.
"If we do that we will be fine, but we just can't find the consistency at the moment. We played well (against Tottenham) in patches, but then we'll have 10 minutes where we'll drift out of the game a little bit."
"I'm distraught, to be honest. I know the importance of the derby. In history, we've always tended to come out on top but it wasn't our day.
"We beat them at home and they beat us at their place. But it's really disappointing that we haven't at least picked up a point.
"There are 10 games left and there are plenty of points to play for. I think in a couple of days' time, we'll get our head around this and realise that we've bridged a gap like that before and can do it again. Everyone is disappointed we lost.
"We will be positive and we will come back from this. Tottenham are our rivals but we'll get over it, we'll be positive. We've just got to work our socks off because we need to be in that top four at the bare minimum.
"I am confident we can find that consistency. We just have to believe in ourselves for the rest of the season."