Spanish star Santi Cazorla loving life in England with Arsenal
Santi Cazorla is delighted with how the first seven months of his Arsenal career have gone.
By Graeme Bailey - Tweet me: @graemebailey
Last Updated: 08/03/13 11:16am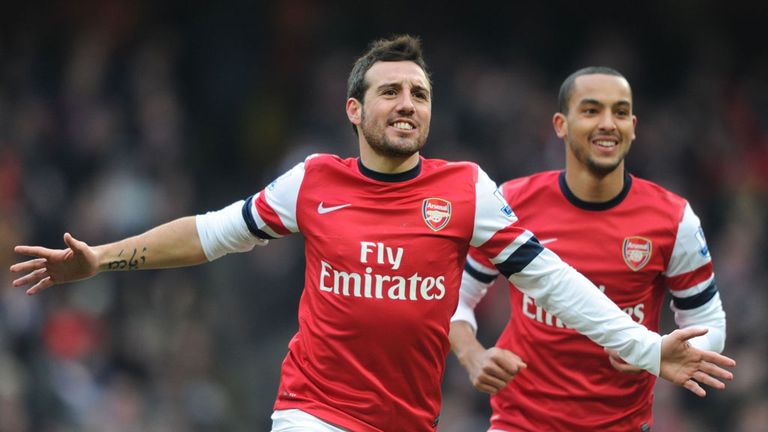 The Spanish international midfielder joined the Gunners from Malaga last summer, and he has enjoyed an excellent maiden campaign in England.
"I think I've had a positive seven months personally as I have been able to come to a team like Arsenal and play in a great league like the Premier League," Cazorla told www.arsenal.com.
"It is a bit different to La Liga in Spain but I've adapted very well and I think Arsenal's style of play has made it a lot easier for me."
He admits that things have not gone completely to plan when it comes to Arsenal's results this term.
"On the pitch, we have definitely had our ups and downs, there have been good times and bad times," he said.
"I think that the team has lacked a bit of consistency and sometimes we have made mistakes that have cost us dearly. Removing these from our game will help us improve in the future.
"But it hasn't been difficult adapting to Arsenal's style of play or even to the Premier League. It is a bit different to La Liga in Spain but I've adapted very well and I think Arsenal's style of play has made it a lot easier for me.
"I was expecting to come into a league that would be a bit more physical, a bit quicker, and had a greater intensity than what I was used to. I was prepared for that, especially the physical side, so I don't think it was hard for me to adapt."
Cazorla feels that, at 28, he had to make the move in the summer, saying: "That was the leap I wanted to make.
"I wanted to go to a big club and an historic club like Arsenal. I'm happy here. The club's influence is enormous and it's incredible that it has so many fans around the world because that means it really is a massive club.
"Generally, I'm happy with everything here because the club treats its players so well."
Wilshere
Cazorla is also enjoying playing alongside England international Jack Wilshere in the heart of Arsenal's midfield.
"Jack is a vital player," he said. "He adds something extra to the team and I'm gradually getting to know his style of play better.
"His way of playing complements my own - in fact, we play in similar positions and so that makes it easier for us to establish a greater understanding every day. He adds that little bit more that we need in many of our games.
"I didn't know much about him when I came to the club because he hasn't been around for very long. He surprised me because he is such a complete footballer. He's young and has a spectacular future ahead of him and he's also got a lot of room to mature and develop.
"Certainly, he's highly valued in England for being a complete player and I have no doubts that he's going to be even more important here in the future."