Tomas Rosicky is keen to play more regularly for Arsenal
Tomas Rosicky is keen to play more regularly for Arsenal and is determined to help the club finish fourth.
By Vasek Kadlec
Last Updated: 18/03/13 9:00pm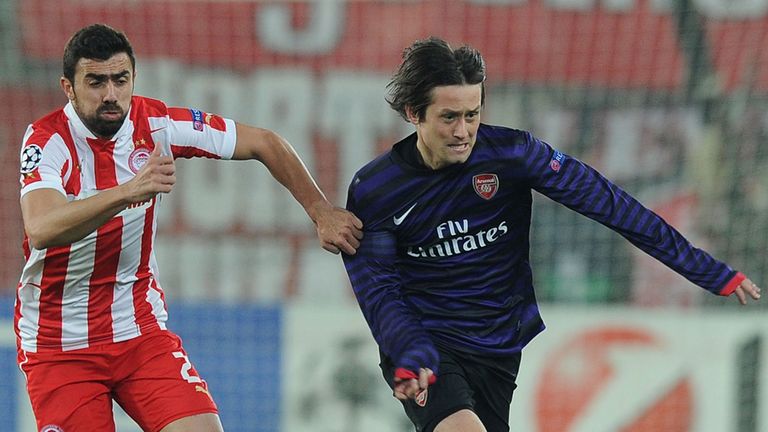 The experienced midfielder missed the start of this season due to an Achilles injury and has been restricted to just nine appearances in all competitions.
He has yet to start a Premier League game this term, but insists he respects manager Arsene Wenger's decisions as Arsenal try to catch Tottenham Hotspur.
"Naturally, I would like to play more often, that's for sure," Rosicky told CTK. "I feel very well, the results in fitness tests were the same as they were in previous seasons when I played regularly.
"When the coach picks me, I go along with all the tactical tasks and I think I have nothing to be ashamed of.
"It's the manager's team and I fully respect his decisions. I cannot do anything else other than train properly and wait for a chance.
"The team has had problems so there's no space or time to complain that someone is not playing. To me, personally, the most important thing is that the club which I love finishes in a position where we can compete in the Champions League.
"Everything else can be sorted out after the season, on a beach for instance!
"I must convince myself so that it doesn't stay on my mind and doesn't frustrate me. That wouldn't help me or the club. Mr Wenger tells me to be patient but, obviously, the manager of such a club is not explaining every single decision to you."
Arsenal are four points adrift of arch-rivals Tottenham, but have a game in hand, and Rosicky feels his side can make up the deficit.
The Czech added: "Even if we have been eliminated from all the cup competitions, we have enormous motivation to fight for fourth spot, which is extremely important for Arsenal.
"There's a lot of points left to play for and we are just four points behind, that can be reached. We just need a run of good results."