Aaron Ramsey has no regrets over Arsenal move
Aaron Ramsey says he has no regrets about choosing Arsenal over Manchester United when he made the move from Cardiff.
Last Updated: 30/03/13 6:22pm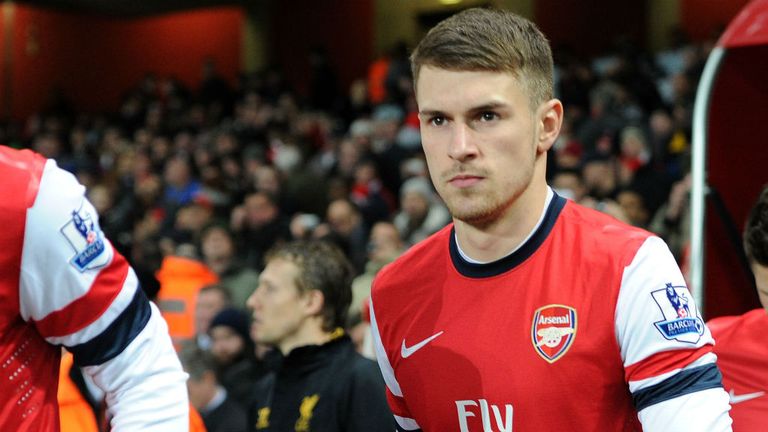 Sir Alex Ferguson's side were in the hunt to sign the midfielder in the summer of 2008, but a 17-year-old Ramsey opted to move to the Emirates Stadium instead in a £5million deal.
He was impressed with Arsenal's desire to sign him, with boss Arsene Wenger even flying the midfielder out to Switzerland where he was working at Euro 2008 for face-to-face talks.
Ramsey has enjoyed mixed fortunes in an Arsenal shirt, with the undoubted low being the broken leg suffered at Stoke in February 2010 that sidelined him for nine months.
The 22-year-old has looked to be getting back to his best in recent months, though that has been tempered by Arsenal's failure to win major silverware for an eighth season in succession.
Despite the lack of medals Ramsey insists he still feels he made the right choice when opting to snub United in favour of the Gunners.
"The main factor in joining Arsenal was meeting with Arsene Wenger and to hear what his plans were for me," Ramsey told the Daily Mirror. "He has brought through so many youngsters and given them opportunities and turned them into great players.
"They flew me over there to have a meeting with him. I was overwhelmed. I was 17 and one of the best managers in the world wants to meet me face to face.
"It was definitely a hard choice to make at my age, but I've no regrets, I think I made the right choice. I felt more wanted at Arsenal, I felt the plan was better for me and they gave youngsters more opportunities. Manchester United also had a lot of midfielders at the time as well."