Theo Walcott would swap personal achievements for a trophy with Arsenal
Arsenal forward Theo Walcott claims he would swap all his personal achievements for some silverware.
Last Updated: 02/04/13 6:05pm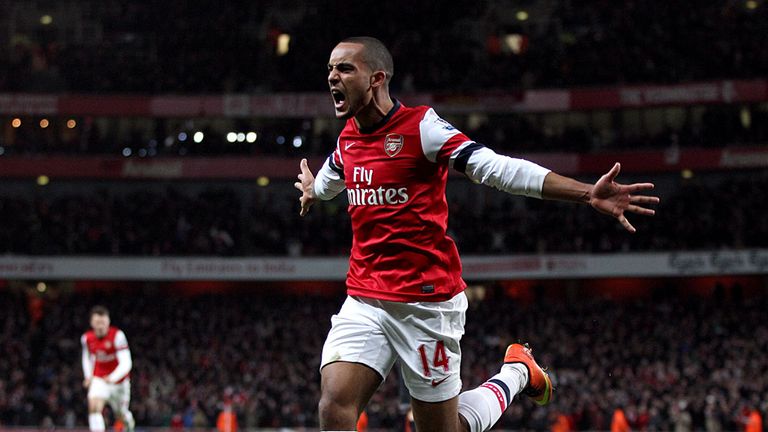 The 24-year-old England international signed a new long-term contract at the Emirates Stadium in January and made his 250th appearance for the club against Sunderland earlier this month.
However, Arsenal's trophyless spell is soon to reach an eighth year and Walcott wants to see this barren run end next season.
"I would personally take all of my appearances away to win something at this club," he said.
"Some people may think I'm mad but I think I'm not selfish. I like to think for the club and the fans.
"Appearances are great but winning things means more. Hopefully next season, when I hopefully reach 300 appearances, there will be a trophy on the end of that. That's the biggest target."
Walcott continued: "I'm very proud of that [reaching 250 appearances]. I've worked hard through all the lows and the highs. This season especially, there have been a lot of highs. It's a nice positive.
"I don't want it to stop there. I want to continue to play and get back fit soon. It's a fantastic achievement and I'm very happy.
"I've definitely matured as a player. I've always been the same sort of person off the pitch. I've always got time for people. I think at times, the players might look for something to come from nowhere and at times that's maybe [up to] me or the likes of Jack [Wilshere].
"This season has been my best goalscoring and assist-making season. I can see why people may think that now. That's been the biggest step for me.
"The assists are something I'm very proud of. A lot of those come from the wing as well. An assist is just as important as getting a goal."