Arsenal will take no more risks with Jack Wilshere's fitness
Arsenal manager Arsene Wenger insists he will take no more chances with Jack Wilshere's fitness.
Last Updated: 16/04/13 7:08pm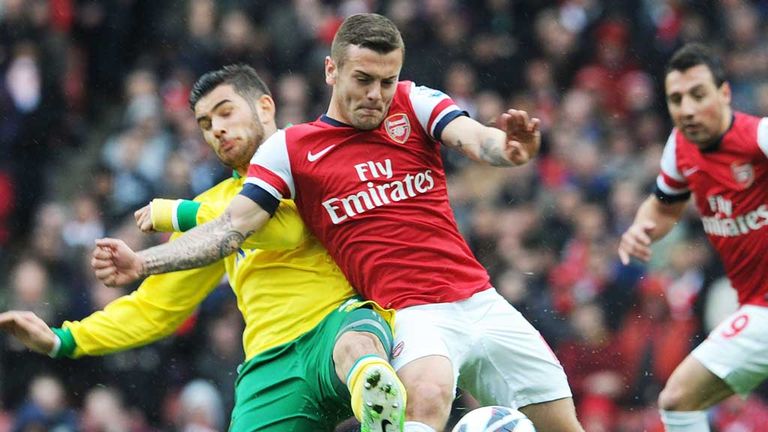 The England international missed the whole of last season with an ankle stress fracture and returned to the Arsenal team at the end of last October.
But the 21-year-old, who continues to suffer from an ankle problem, played for an hour in Saturday's 3-1 victory over Norwich following another lay-off.
"I rushed Jack back a bit. He was not completely ready," Wenger said ahead of Tuesday's match with Everton.
"How careful have I to be? To listen well to the medical advice and that is what I have to do, use him when everything is all right and listen to him as well, how he feels.
"Jack has been out for six weeks, so maybe it was a bit too rushed, what I did.
"I will get advice from the medical department and how he feels as well and as well use my experience and the fact I know him very well.
"He practises with me since he was 16, so I know quite well how his body responds to things."
Wilshere, meanwhile, accepts he probably needs a bit more time to fire on all cylinders again.
"I know it was only six weeks, but you still lose your match sharpness and it takes a few games to come," Wilshere said.
"It was frustrating, because I was flying just before I got injured in March. I felt good, confident, and then picked up another injury.
"Things then drag a little and you lose your sharpness, but this time it wasn't anything like as long as the one before, so hopefully this time I can get it back more quickly.
"I needed that game on Saturday - you always need your first one out of the way.
"I wasn't great, I know it myself, I am better than that, but you need just to get that first game in so that your sharpness and understanding come back."