Jack Wilshere looking for Arsenal to claim six more wins
Jack Wilshere believes Arsenal are capable of taking maximum points from their six remaining fixtures this season.
Last Updated: 16/04/13 7:09pm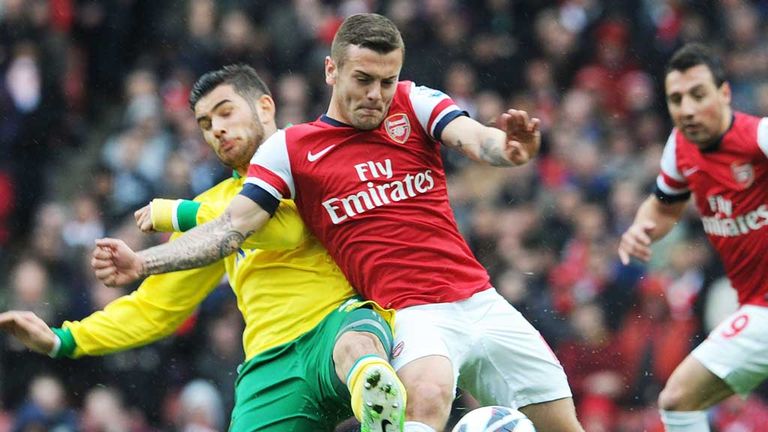 The Gunners are set to end an eighth successive campaign without silverware to show for their efforts, but can claim some consolation in the form of UEFA Champions League qualification.
A recent surge in league form has carried them into third place in the Premier League table and to the top of the capital pecking order.
Preserving that lofty standing is now the target for all concerned at Emirates Stadium, and Wilshere is confident they can finish with a flourish - starting in a home date with Everton on Tuesday.
He said: "I think we can get maximum points from our six games.
"If we drop points, we drop points - we'll just have to bounce back and go game by game.
"It's great (to be third), especially considering the position we were in before. We've shown a lot of character. But while it's good to look at now, we want to be better than that - we don't want to be happy with third in the league.
"We've got great players, and want to be challenging for first and second. We're happy with third, when you look at this season, but really we want to be higher."
Frustrating
Wilshere has also offered an update on his ongoing fitness battles, with the midfielder having made his latest return to action during Saturday's dramatic 3-1 victory over Norwich City.
He added: "It was frustrating, because I was flying just before I got injured in March. I felt good, confident, and then picked up another injury.
"Things then drag a little and you lose your sharpness. But this time it wasn't anything like as long as the one before, so hopefully this time I can get it back more quickly.
"I needed that game on Saturday - you always need your first one out of the way. I wasn't great, I know it myself. I'm better than that, but you just need to get that first game in, so that your sharpness and understanding come back.
"Obviously, it's good to be back, but it's going to take time to get back to where I was. I know it was only six weeks but you still lose your match sharpness and it takes a few games to come. But it's always nice to come back to a home game.
"I'm feeling fine. As I said, I needed the game on Saturday and am happy the boss gave it to me. The plan was always that I'd play an hour [Theo Walcott replaced Wilshere of the final 30 minutes].
"I don't know what the boss will do [against Everton] - if he plays me then I'm fit and ready; otherwise, I'll be ready to contribute from the bench if needed."